Chloé's Spring/Summer 2020 Hair Looks Were A French-Girl Take On Utilitarianism
Pascal Le Segretain/Getty Images Entertainment/Getty Images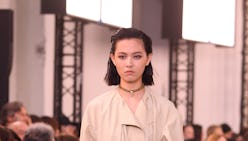 As you know, the '80s are alive and well in fashion. Yet for Chloé's Spring/Summer 2020 hair looks, the house looked back about 40 years prior. "All are inspired by the '40s, with some girls wearing their hair curly, some with a boyish up-do, and some with a boyish twist with their lengths left down," reads a quote by Hair Stylist and Redken Global Creative Director, Guido Palau, in a press email.
It's a smart decade for Chloé to look back on, as well. When asked backstage at the show about the inspiration for the look, Paulo shares with The Zoe Report that it was "the Chloé girl — feminine, boyish." And which era exemplified that better than the softly glamorous, yet uniquely utilitarian style of the '40s?
Which, as you're probably well aware, is drastically different than the modern sartorial definition of the aesthetic. Although Vogue noted its distinct departure from the bohemian prints that've come to typify the house, Chloé's utilitarianism still involves chunky, sky-high platform heels and even bolder jewelry. And the wave of vintage-inspired hair styles were instrumental in completing the house's Spring/Summer 2020 vision — marrying together old and new, nostalgia and modern, similar to the electronica-kissed classical music played as the models walked.
Better yet, they're styles you can work into your everyday playbook. To build the updos seen at the show, stylists began by prepping the crown of the hair with Redken's Guts 10 Volume Spray Foam, blow-drying it up and back to work in volume. Next, the front pieces of hair were curled towards the back as well, then combed through to loosen them into waves.
The following step is the most important in capturing the show's signature element: the on-trend 'wet' hair look, with comb marks still visible. "So, my key product is Shine Flash Triple Pure 32 to get the comb marks in the hair. It's being rolled up, kind of '40s style," Paulo explains. "Very Chloé."
Photo by Khalea Underwood
Photo by Khalea Underwood
One round of hairspray and comb through later, the stylist side-parted the updo, misted it again, then clipped it around the head to let it set. But to get the glossy, fresh-out-of-the-shower look, Redken's Shine Flash 02 hairspray — also known as a "Glistening Mist" — had to be called on.
Photo by Khalea Underwood
Photo by Khalea Underwood
With a spritz of spray, the music began, the models walked, and the rest is history; or, rather, history repeating itself. Not in Paris? You can watch the Chloé Spring/Summer 2020 show on YouTube, or simply by visiting the house's website. Below, the Redken products used to achieve the dreamy updos.