Fans Of Charlotte Tilbury's Stoned Rose Lipstick Shade Will Love The Brand's Latest Palette
Courtesy of Charlotte Tilbury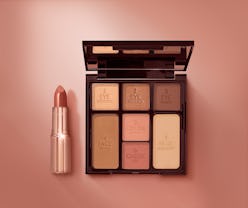 Say the name Charlotte Tilbury, and there's one word that most likely immediately comes to mind: lipstick. Yes, the beauty brand offers a lot more than that, and also claims a lot of cult-favorites that span categories. But out of all its beloved products, Charlotte Tilbury's cheekily named lipstick shades like Pillow Talk Walk of Shame remain some of its most-talked-about offerings — which is why it makes total sense that the brand has taken those shades and used them for many other launches. The latest? Charlotte Tilbury's new Stoned Rose Beauty Palette, a $75 release that's based on Stoned Rose, the third best-selling lipstick in the brand's collection.
And, much like the lipstick shade, the new palette is a subdued mix of nearly neutral shades with peachy, coral undertones that give a warm effect the brand describes as "rose kissed." It's the perfect complement to the lipstick, featuring seven steps that are designed to give an all-over-glow (aka exactly what many of us are looking to create in the dead of winter).
It's also made to shorten your morning makeup routine. Like Charlotte Tilbury's other Instant Look In A Palettes, the product simplifies application with a step-by-step spelled out right in each pan, and is supposed to help you nail your look in about five minutes.
While the instructions are clearly laid out, though, Tilbury herself does have a few tips to maximize its use. Going for a nighttime look? "Dial up this seductive Eye Smoke shade from day to night by smudging along the upper and lower lash line," she explained in a press release. "Add a classic flick with my eyeliner pencil in Audrey for a natural smokey eye!"
According to the makeup artist, the blush can be used for other purposes as well. "The Cheek Swish may also be used on the eyelids for happy peach-glow eyes to ENHANCE the look of your natural eye colour!" reads another quote from Tilbury in the press release.
And of course, no matter how you choose to use the palette, the best finishing touch to your look is the brand's beloved K.I.S.S.I.N.G Lipstick in Stoned Rose. Ahead, shop them both — because Charlotte Tilbury cult favorites are known to go fast.