More Than 17,000 People Have Signed Up For Charlotte Tilbury's New Foundation (& It Launches *Soon*)
Courtesy of Charlotte Tilbury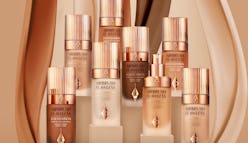 Even though the beauty industry may currently be a tad crowded, there are still makeup launches that capture the community's attention well before the products even debut. This month, that crown goes to Charlotte Tilbury's new Airbrush Flawless Foundation. Though the brand's latest complexion product doesn't officially drop online until Aug. 22, more than 17,000 people have already signed up on Charlotte Tilbury's website to try it out ASAP.
Though when you consider the fact that close to 3 million people follow Charlotte Tilbury's Instagram account it's easy to see why. That, and the fact that the brand's new $44 foundation doubles up as a serious skincare product. The Airbrush Flawless Foundation focuses on enhancing the natural look of your skin, from the inside out — its full-coverage formula is light, transfer resistant, and waterproof, with a naturally matte finish available in 44 shades.
"In my 27 years as a makeup artist to the stars, people have always asked for my secret to the 'flawless' feeling derived from a poreless-looking, satin-smooth, visibly airbrushed, youthful-looking, and flawlessly matched complexion!" reads a quote by Charlotte Tilbury herself in a press email. "This is a natural-looking, weightless, full-coverage hybrid magic skincare foundation for every occasion."
The formula's strength stems from a cocktail of Charlotte Tilbury skincare ingredients, like Magic REPLEXIUM, MossCellTec, and AirCool. Each one targets one aspect of the foundation: The Magic REPLEXIUM smooths fine lines, the MossCellTec infuses skin with moisture, and the AirCool complex creates a refreshingly cool feeling as you spread the product over your skin.
Better yet, the brand is confident any shopper will be able to find a shade from the Airbrush Flawless Foundation collection. "Most foundations start with the whiter pigment and then get stretched out to the deeper tones, but what you end up with is deep tones that appear ashy or chalky," Tilbury continued. "So, I decided to balance pigments first, really working to get my miracle formulation optimizing all overtones and undertones, whilst nourishing the skin with my miracle skincare ingredients. There are 44 shades to suit every skin tone."
Ready to find out which shade is right for you? Grab Charlotte Tilbury's new Airbrush Flawless Foundation when it launches Aug. 22.