Charlize Theron Just Brought Back Her Iconic Hairstyle From 2013
Dan MacMedan/Getty Images Entertainment/Getty Images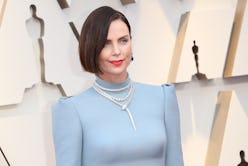 Just when you thought Charlize Theron had debuted her edgiest 2019 haircut yet, the actor proves once again that her style is always evolving. Wearing an equally show-stopping black Dior gown, Charlize Theron unveiled a blonde pixie cut at the 33rd American Cinematheque Award ceremony on Nov. 8 (which just so happened to be in honor of the actor herself). This means that Theron's popular multidimensional bowl cut is gone — for now. But once you see her new 'do, you'll understand why it was time to make this unexpected leap.
And if the new blonde style seems oddly familiar to you, you're not alone — it's surprisingly close to Theron's iconic 2013 pixie cut, which she wore similarly styled to the Academy Awards (and paired with a white Dior dress, no less). "Always love changing up this humans hair. New color. Swept back. New vibe," wrote Theron's hairstylist, Adir Abergel, on Instagram. "Tonight my friend Charlize is being honored at the American Cinematheque Awards and I could not be any prouder."
Unlike the Oscars cut from days gone by, Theron's new pixie has a few modern touches. First, it's a hair longer — no pun intended — at the top, with a more volumized, swept-back style. Take note of the sides, too: Theron's latest look features a very closely cropped undercut colored the same warm, golden blonde.
After the award gala ended, Theron took to her own Instagram account, @CharlizeAfrica, to share a message with followers. "Overwhelmed with gratitude tonight. Thank you #AmericanCinematheque for this incredible honor," the actor wrote. "And thank you to my friends who spoke tonight - you made me laugh, cry, and realize that my career would never have been what it is without the support you all have given me."
You don't have to jump for a super-short cut to achieve a similar look, either. Abergel noted in a comment on his Instagram post that it's important to tease the roots when crafting a volumized style. For some extra help on that front regardless of length, keep scrolling — three fan-favorite haircare products that deliver a hefty dose of height are ahead.