Karl Lagerfeld, Renowned Fashion Designer For Chanel, Is Dead At 85
Pascal Le Segretain/Getty Images Entertainment/Getty Images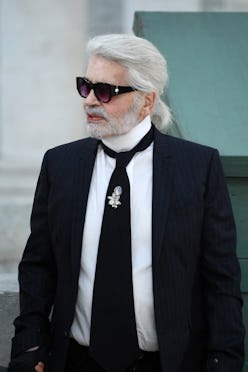 The world of fashion lost an icon today — Karl Lagerfeld has died in Paris, according to a tweet by The Business of Fashion on Feb. 19. The designer was 85. Lagerfeld has served as the Creative Director for Chanel since 1983, as well as for Fendi since 1965, and is widely considered one of the most influential designers in fashion.
According to an article from Elle, Lagerfeld has reportedly been ill in the weeks leading up to his death, which may be the reason the designer did not attend some of his Haute Couture shows in January. However, there is little information regarding the exact cause of his death as of yet.
Lagerfeld had an enormous impact on the fashion industry, and his absence will no doubt be felt widely. As the New York Times noted, he created a new type of designer — "the shape-shifter" — by being one of the first to truly reinvent a heritage brand and breathe new life into old fashion houses.
His creations were often considered nothing short of brilliant. As a statement from Chanel CEO Alain Wertheimer on The Business of Fashion reads, "Thanks to his creative genius, generosity and exceptional intuition, Karl Lagerfeld was ahead of his time, which widely contributed to the House of Chanel's success throughout the world."
And ahead of the time he was. Though Lagerfeld began his career at Chanel more than 30 years ago, the designer was renowned for his beautifully-produced, often over-the-top fashion shows, one of which included a rocket ship; another, an Eiffel Tower reproduction (the list goes on). He demonstrated a clear understanding of the digital age, and the social media buzz that surrounded each show and its opulence was just further proof of that.
Lagerfeld was most known for his time at Chanel, but the designer had his own brand and also spent a number of years at Fendi. Beyond that, the world knew him for his iconic image as well — he was never without his sunglasses, ponytail, or dark suit. And of course, that image wasn't complete without his famous cat, Choupette.
For now, The Business of Fashion reports that the brand does have someone to step in at Chanel. "Virginie Viard, director of Chanel's design studio and Lagerfeld's closest collaborator for more than 30 years, will take the creative reins at the company's fashion business." However, as Vogue reports, "Chanel has not indicated when or even if it will replace him."
And as the world knows, Lagerfeld could never truly be replaced; now, Chanel will simply enter a new era.