We're Calling It: This Copenhagen-Based Brand Is Fashion's Next Big Thing
Cynthia Anderson/Shutterstock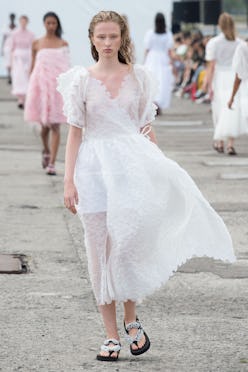 Not long ago, voluminous, tiered white dresses were reserved strictly for sacrament — be it a baptism, confirmation, or wedding. The combination of such a silhouette and color isn't just a withstanding symbol of femininity, but also that of purity and innocence. And you might think Danish designer Cecilie Bahnsen, whose Spring/Summer 2020 collection just showed during Copenhagen Fashion Week, is making a statement in favor of piety — or, at the very least, modesty — but that's not exactly the case.
Bahnsen's inspiration, according to the show notes, was sourced from husband-and-wife artists Christo and Jeanne-Claude, who famously wrapped iconic landmarks like Reichstag building in Berlin and Paris's Pont Neuf bridge in large cloaks of fabric. The duo also outlined almost a dozen islands near Miami in 6.5 million square feet of highlighter-pink polypropylene fabric, creating quite a stir for two long weeks in 1983.
"What they did was to create new ways of looking at the familiar and iconic," Bahnsen said of the artists in her show notes. "I read a quote by an art critic who described it as 'revelation through concealment.' That really clicked with me. With my dresses, I'm looking at ways of concealing and revealing a woman's body, wrapping and enveloping, looking at sensuality and femininity, finding new ways."
And that sentiment — along with Bahnsen's near-obsession with expert craftsmanship and top-tier materials — was entirely evident throughout the show. The ever-romantic collection opened with a goldenrod yellow midi dress in sheer smocked organza. Later, we saw a trio of structured suiting separates (a first for Bahnsen, an LVMH Prize finalist), two of which were constructed in triple-layered jacquard, a technique that produced an illusion of a cloud-like texture.
She showed modest silhouettes reminiscent of seasons past in bubblegum pink, a new hue for the color-shy designer — one of which included dress in a fil coupé organza, a weaving technique that lends a delicate, textured feather effect. It was nothing short of mesmerizing in motion.
"For the collection I wanted that same feeling of abundance you get in the Christo and Jeanne-Claude installations," the designer noted. "We piled yards and yards of fabric into bundles of ruffles and pleats so that surfaces suddenly blossom into enormous volume."
Familiar conventions like architectural balloon sleeves, nipped waists, and opaque panels were in abundance; Bahnsen also doubled down on feminine details, like trailing ribbons at either hip, or layering across the bodice. And though most looks appeared extraordinarily confectionary from the front, many dresses were again backless, secured with little more than a duo of bows — a design detail you might also recall from her Fall/Winter 2019 collection.
Though it may look to some as more of the same — and you wouldn't be entirely wrong — that sameness isn't just working, but it feels just as fresh and exciting as it did in seasons past. The pieces are delightful in the way only a cake-topper dress could be, and the pantsuits, though not entirely practical in that many bordered on translucent, force you into the sartorial fantasy world that made so many of us fall in love with fashion in the first place.
It's why retailers like Moda Operandi, MATCHESFASHION, and Net-a-Porter can barely keep the label in stock: It's the belle-of-the-ball fantasy, signed, sealed, delivered — and probably paired with chunky flatforms.
"With my dresses, I have a bit of a romantic notion of them looking like the beautiful ghost of a garment," Bahnsen said in the show notes. "And this is my most romantic collection yet, I think, which is really saying something."
The buzz around the young designer — who remains one of the most highly regarded at Copenhagen Fashion Week — is well-deserved. Not only does she command critical acclaim, but she's managed to pinpoint exactly who she's designing for. In fact, halfway through, just as a white, knee-length dress with a fil coupé organza finish appeared, a a show-goer seated to my right exclaimed excitedly to her seat mate that "everything is still so floofy." And, well, that's the fun of it.