Cecilie Bahnsen's Signature Dresses Got The Prettiest Summer-Ready Update In This New Collection
Courtesy of MATCHESFASHION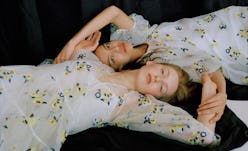 Now and then, there comes a designer that creates pieces so romantic and ethereal, it feels as though they stepped right into the dreams of fashion lovers and editors everywhere. Cecilie Bahnsen, with her eponymous label, is one such designer. Known for her dresses that boast sweet details and undeniable volume, the Danish designer has struck a chord with her particularly charming designs. And with the Cecilie Bahnsen x MATCHESFASHION collection, she's giving her iconic pieces breathtaking updates for summer.
In an exclusive capsule collection with the online retailer, Cecilie Bahnsen has launched new versions of its signature dresses along with a whimsical take on the hiking sandal trend. The 15-piece collection includes select styles featuring floral embroidery and beading. According to the collection description, the beaded details were created in collaboration with the 14-year-old jewelry designer Margrethe Hjort Hay, who worked with Bahnsen on her Spring/Summer 2019 collection.
"The designs for the exclusive capsule collection are a beautiful continuation of our SS19 collection, combining sculptural silhouettes with couture techniques reinterpreted for the MATCHESFASHION.COM woman in beautiful colors and delicate embroideries," Bahnsen said in a statement. Made with opulent fabrics and intricate embellishments, this collection takes on Cecilie Bahnsen's feminine style in a refreshing way.
No matter where you find yourself this season, the $3,364 Ruth Beaded Silk-Organza Midi Dress will be perfect for your formal outdoor celebrations. Available in blue and black, this dress will feel especially beautiful (and seasonally appropriate) with a pair of espadrille wedges or white sandals. There's also the Annabella Floral-Beaded Silk Organza Dress, $2,600, just in case you want to wear something shorter and more casual instead.
If you're the type of person who likes to enter a room with a statement, nothing will do it quite like the Molly Fil-Coupé Dress, $2,692. Between the utter volume and the delicate fringe texture, you can trust that all eyes will be on you. Of course, for those who fall on the other end of the spectrum, the $969 Mary Lou Cotton-Poplin Midi Dress is a style that can be worn for any event — even weekend trips to the farmer's market.
For those hot summer days when you simply want to stay cool, look to the Matilda Floral Guipure-Lace Dress, which costs $2,266. Style it with the $437 Beaded Velcro Strap Sandals, which were made with the Japanese label Suicoke and will add a delicate touch to your summer ensembles in the most casual way.
Scroll down to see more of the Cecilie Bahnsen x MATCHESFASHION capsule below.