If You Like Catbird's Insta-Famous Candles, You'll Love Its Latest Launch
Courtesy of Catbird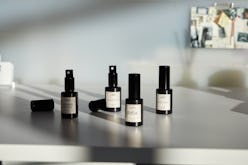 If you stay up-to-date on cool-girl brands, you knew about Catbird a long time ago. If you don't, you're probably still at least marginally aware of the jewelry store that's been churning out unique, dainty designs since 2004. Since its inception 15 years ago, it's made a name for itself as a place to shop for stunning jewelry designs and trendy home and beauty products. And though it hasn't really branched out from those few categories, it has grown within them. Its latest addition? Catbird's new water perfumes — a first for the brand that's sure to swiftly catch on with the cool-girl crowd.
As the founder and co-creative director of Catbird, Rony Vardi, explains, the launch was a natural next step. "Scent goes hand-in-hand with jewelry. They are worn so intimately — against your bare skin — and are a unique expression of who you are," Vardi tells TZR in an email. "Personal fragrance is a natural extension of Catbird jewelry - pieces you can put on and never take off."
And the scents really are an extension of the brand's jewelry. Much like the low-key, Brooklyn-girl style of Catbird's accessories, its new $36 fragrances are laidback with a slightly bohemian vibe. The launch includes four scents, which you might recognize from the brand's best-selling candles: Ghost Rose, Summer In Italy, Tarot Deck, and its signature scent, Kitten. And though none of them sound (or smell) similar, they're all heady, nostalgic combinations that you can easily imagine on Brooklyn's trendiest residents.
Like the candles, the fragrances are also created close to home for the Brooklyn-based brand: Each one is blended and bottled upstate. And, according to the products' descriptions, each non-aerosol water perfume is created with air quality and safety in mind: They're all "alcohol free, VOC-compliant, pthalate free, IFRA/RIFM approved," contain no banned substances, and are never tested on animals.
Given the brand is known for creating cult-y products (remember those "first-knuckle rings" that helped bring the stacked-ring trend back into style?), it wouldn't be a surprise if you started catching whiffs of these scents everywhere you turn — after all, they've already proven to be a hit for the home. Plus, paired with Catbird's jewelry, it's the ultimate cool-girl combination. So keep scrolling to shop the new fragrances — all four must-have scents are below.