Cara Delevingne Watches Makeup Tutorials, Just Like Us
DAVID X PRUTTING & MIKE VITELLI/BFA.COM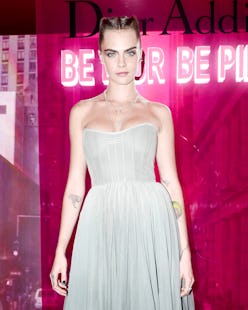 With runways to dominate, secret handshakes to execute (she has one with fellow model Binx Walton), and social causes to stand up for, the fact that Cara Delevingne — the new face of Dior Addict Stellar Shine — occasionally snoozes in the makeup chair is pretty understandable. "A few years ago, we were shooting with Cara and she came from doing a promotion tour," Peter Phillips, Creative and Image Director of Christian Dior Makeup, tells a small group of editors at a press junket in Paris on Feb. 25. "She was exhausted. She comes in spontaneous and laughing and fun, and then she falls asleep." Being the pro that he is, Phillips painted her face to perfection... and with a working relationship of nine years, Delevingne has picked up plenty of tips from the artist. But some of Cara Delevingne's best beauty tips are courtesy of what you can't buy from a department store. As after school special as this sounds, the 26-year-old model is a staunch advocate for self-love and self-expression, along with great lipstick.
"I really admire the fact that she found her voice and that she's not just a face," Phillips praises. "When she's acting or singing, she's not afraid to express herself." Which is exactly what she did, for exactly 25 minutes and 32 seconds... and on every topic from social media followers (and haters), her interpretation of feminism, and her fascination with beauty tutorials. Read more about all of the above, ahead.
On Makeup As Self-Expression
"I think my tool or tip is to really experiment. The thing is, I'm so lucky to be able to have my makeup done by so many incredible people that actually, I think I've been lazy in learning how to do it myself. I'm not very good at makeup by myself. I enjoy watching tutorials, but I never really try it. I'm better doing it on other people than on myself... then I can get my friends to do my makeup in return. Which is actually fun, because it's part of doing makeup as well, it's not just about being beautiful but it's also knowing it's self care. Knowing that you care enough about yourself to express yourself in a certain way and that is part of self love. So again, be experimental. Makeup isn't just about being feminine. It's about being masculine, feminine, expressing whatever that is. You know, makeup shouldn't just be for woman, it should be for men, it should be for everyone, it should be inclusive."
On The Power Of Pink
"I don't think pink is all about being feminine. [Editor's Note: All of the new Dior Addict Stellar Shine lipsticks are in various hues of pink.] I mean, it is beautiful, I feel feminine when I wear pink but, you know, men should wear pink. It doesn't have to be feminine. Feminine should mean strength. And women, no matter what they wear, should feel strong. That's the most important thing, I think, to feminists. It doesn't matter what you wear, it doesn't matter if you're naked, it doesn't matter if you're clothed completely. You should feel strong for who you are. And you should have the same rights as everyone else."
On Ignoring Instagram Bullies
"Some people have all had bad things said about us or to us, but the worst voice or the worst thing that anyone could ever say to you is probably your own head, right? So when you look for these comments, you're looking for something to confirm the way you feel about yourself. The problem is, you have to love yourself, and it doesn't matter what other people say. The most important thing is about loving yourself.
"There are people who have bad experiences with bullies. It's not about fighting back, it's not about retaliation, but it's about taking a higher path, whether it's blocking them or getting people to be aware of this person who is being mean or hateful. I think people should be, not prosecuted, but brought to the light if they're spreading hate. Anyone who spreads hate should be called up on it. Kill them with kindness, honestly. Don't carry on the hateful conversation. Just smile and wave."