This Hydrating One Love Organics Serum Is On Sale At CAP Beauty Right Now
ImaxTree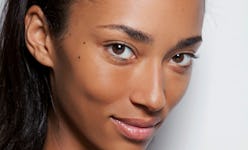 With just over 62,000 followers on Instagram, CAP Beauty is the secret MPV of beauty gurus and the skincare obsessed. Since opening its West Village doors in 2015, the natural beauty store and spa has grown to include over 150 brands in its lineup — and a diehard cult following. If you didn't know about the CAP Beauty Warehouse Sale before, you're about to fall in love with the store, because tons of popular natural beauty and wellness products are up to 25 percent off.
As much as you may want to be an all-natural, serum-slathered goddess sipping on tinctures and misting your face in sage extract... it isn't cheap. Thankfully, during the sale, tons of luxe skincare products are marked down to prices that are much more accessible. The Love Springs Eternal Youth Serum from One Love Organics is the perfect example, and is currently discounted to $56.25, which is down from its original price of $75. It packs potent ingredients like watermelon seed oil, essential fatty acids, Bulgarian rose oil to help smooth and and moisturize skin.
For skin suffering from redness thanks to winter's harsh, drying air, opt for Wildcare's Hawaiian Sandalwood Hydrosol, which is a soothing mist designed to calm redness and promote cell regeneration. The relaxing product normally costs $18, but during CAP Beauty's Warehouse Sale, you can snag it for $13.50. Spray it onto your face, body, and all around you to soften your skin and calm your mind.
The sale has a lineup of powerful face oils to choose from as well if you're looking for additional moisture. CAP Beauty co-founder Kerrilynn Pamer starred the Wonder Valley Face Oil as one of her summer picks, and during the warehouse sale it's on sale from $65 to only $48.75. "This beautiful face oil completes my evening routine and allows me to happily indulge in a long and thorough face massage," Pamer wrote on the CAP Beauty blog. Not only is the bottle beautiful enough to leave out of your medicine cabinet, the serum is composed of a hydrating and anti-inflammatory calendula-infused olive oil, jojoba, sweet almond, and rose hip blend.
CAP Beauty's trademark philosophy is that beauty and wellness go hand-in-hand, and many of the most popular products from the warehouse sale reflect the idea. Created by the Finnish company NordicNordic, the Lingonberry Powder is fourth on the sale's bestseller list, on sale at $14.25 from $19. The antioxidant-rich powder is created from over 7,000 lingonberries and packs a powerful punch of vitamin E, fiber, and manganese. You can add the powder to basically anything, like a protein powder, and CAP Beauty's blog states that the taste is similar to cranberries.
Once you join the CAP Beauty cult, there's no turning back. Below, eight all-natural beauty products from the sale that will transform your skin from the inside out.
Editor's Note: CAP Beauty announced a sale on KYPRIS products in error. We've updated this article, and its headline, to reflect that change.