Is Your Therapist Doing More Harm Than Good? Here's How To Know For Sure
Pixelformula/SIPA/Shutterstock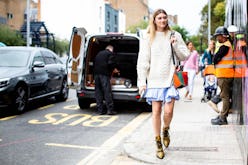 Therapy can be a truly transformative step for many people in terms of mental health and happiness, but it doesn't necessarily come easily. As any expert will tell you, it's certainly not a quick fix and will likely take more than simply showing up to your 50-minute sessions to really get the intended benefits. For example, if you haven't found a therapist who you trust and connect with, it's not uncommon to ask yourself, can therapy make things worse?
Whether you're considering — or currently practicing — therapy to tackle issues including anxiety, relationship struggles (with or without your partner in tow), trauma, sex, or whatever seems to be causing some emotional stress, you might actually be doing more harm than good if you're not paired up with someone both qualified to help with your specific needs and with whom you have a relatively comfortable rapport (more on that ahead). And that's because, while they potentially have the on-paper requirements down, therapists are also as human (and flawed) as anyone else. "Unfortunately, not all therapists are as emotionally healthy as they should be, and therapy can actually be harmful," Stephanie Insko, Ph.D., a counseling psychologist practicing at Brentwood Counseling Associates.
According to Insko, often times your instinct can tell you when someone's just not a good fit. That said, for those just starting therapy, it can be a bit of an uncomfortable process at the beginning — no matter who you're dealing with. For that reason, you might consider a brief grace period to be sure you're not just in fear of opening up in general, and also to allow a bit more time for you two to learn each other's languages. "Beginning a therapy relationship, like any other relationship, can be awkward at first," shares Lily Ewing, a Seattle-based therapist. "First sessions can feel big for clients and counselors because everyone there is testing the waters. This is a lot happening in 50 minutes. So come back at least one more time, just to get a better read on things after a few days. If by the third session, it's just not a match, you have every right to call it off."
Both experts agree that there are a few red flags that can help you realize whether or not the therapist you're seeing is the right match for you. For example, Insko notes that a therapist who spends too much time talking about herself — instead of asking about your needs — can be problematic. However, she does note that some personal exchanges can be beneficial. "It increases your feelings of connection with her and lets you see her human side," she explains. "But too much can turn the relationship from a therapeutic one into one that feels more like a friendship. Find a new therapist if you sense that she's wanting you to give her as much emotional support as she gives you."
Another sign to keep in mind is a therapist whose experience isn't meeting your needs. "It's not possible for therapists to be trained to treat every population and every mental health concern," Insko says. "That's why a good therapist will respect the boundaries of her competencies and refer you to a colleague if your problem is something she's not trained to work with."
And just like the rest of us, therapists can fall victim to work burnout, as Insko explains. While that's normal, someone very noticeably in the throes of this may not in the best place to help others. "An effective therapist takes care of her own mental health, and this protects her from burnout," she says. "Some signs that you may be dealing with a burned-out therapist include extreme emotionality in session (frequent crying, for example) and inappropriate sharing of her own 'stuff.'"
You also might want to take stock of the power dynamic between the two of you, suggests Ewing. "If the therapist is telling the client what to do in his/her life (rather than helping the client in making their own choices), taking financial advantage of the client, or using their power to coerce the client into a romantic or sexual relationship, therapy can be extremely harmful," she explains. "Therapy relationships are built on definitive trust, and when that trust is broken, it's the client who suffers most."
That said, what can you do once you've realized you're not benefitting from your therapist? Do you quit cold turkey? Or is there a conversation to be had that can potentially turn things around? According to Insko, don't be afraid to have that discussion if you think perhaps the two of you might simply be miscommunicating. "I tell clients up front to please let me know when the process isn't as helpful as they thought it'd be," she explains. "The therapeutic relationship should be a safe enough space for honest feedback. The therapist can take it, and if they can't, that's a sign that they're not the right fit for you. Ideally, they'll work with you to understand what's not feeling right about the process, and brainstorm new things to try to get it back on track."
Lastly, there are may be a simple way to test out your potential chemistry before even setting foot into a session: Counselors like Insko offer a quick call as an introductory option. "I encourage potential clients to schedule a short phone consultation before the first session to get a feel for me," she says. "Fit is a huge predictor of the success of therapy, so it's crucial that you find a therapist you click with."