Here's When BYREDO's Limited-Edition Unnamed Fragrance Is (Finally) Returning
BYREDO/Instagram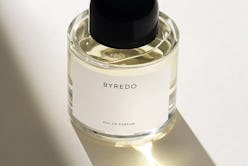 The names of BYREDO fragrances have a way of telling stories. It's hard to decide where the meaning ends and the scent begins — like for the romantic Slow Dance, or floral Rose Of No Man's Land (a perfume that just feels vintage, somehow). "The names of the BYREDO fragrances often describe the origin of an idea," explained a press email quote from the brand's creative director, Ben Gorham. This may make it even more intriguing, then, to see the signature bottle sans title, as is the case for BYREDO's Unnamed fragrance.
And yes, before any fans of the cult-favorite brand can ask: The once sold-out perfume is coming back in stock just in time for Valentine's Day. Officially relaunching on Jan. 9, Unnamed originally dropped back in 2016 as a way to commemorate BYREDO's 10th anniversary. Although the crisp label may be devoid of title, each bottle is packaged with a set of letters you can use to imagine your own name for the perfume; including new neon blue, green, and pink shades for 2020.
"We created an unnamed fragrance that allows our customers to choose a name meaningful to them, and customize the label of their bottle," Gorham continued. "This is our way of celebrating the notion and uniqueness of smell and an opportunity to thank our partners, retailers, and staff as well as the loyal customers who have supported and grown BYREDO to what it is today."
That said, the fragrance itself will pull you in, challenging and inviting you to describe it. It's an interesting mix you need to experience to understand: Unnamed's top notes are listed as pink pepper and a gin accord, while orris stem and violet round out its heart. At the end, you can catch tree moss and fir balsam — causing the fragrance to land with an earthy, woodsy finish.
Or, perhaps, you'll be too busy with the opening pepper, or too preoccupied by the lush violet; Unnamed is open to your own interpretation. "With fragrance being completely subjective these names spark the imagination of the perfumer and finally the customer," Gorham noted. "They each experience the fragrance even before they smell the ingredients in the bottle. We still find it fascinating that people interpret our fragrances in so many ways."
Snag your own bottle of Unnamed on BYREDO.com and in select stores Jan. 9.