BYREDO Just Added Another Fragrance To Its Lineup Of Cult Favorites — & It's Unexpected
BYREDO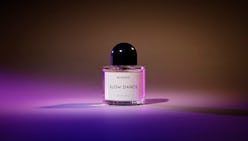 Do you remember your first slow dance? The lights dimming in the gymnasium, the hurried looks towards potential dance partners (sussing out who should approach who first). Your heart racing, practically outside of your chest. Then, in just a few minutes, it was over as swiftly as it began — and the magical, life-altering moment slipped away. While that may just be a page in your yearbook, the metamorphic experience entirely inspired BYREDO's new Slow Dance fragrance. Released online and in BYREDO stores on Aug. 26, Slow Dance is the latest scent from the cult-favorite fragrance brand and perhaps one of its most intriguing yet.
Obviously, the memory-shrouded concept of Slow Dance is a bit nebulous; while most have experienced it, how would you go about describing it, especially in the context of a fragrance? Fortunately, BYREDO took a crack at it. "The slow dance: A rites-of-passage moment for both girls and boys before they metamorphose into women and men," the brand wrote in the product description. "A feeling of exhilaration tempered by awkwardness, a heady collision of innocence and experience, not knowing and knowing, felt across countries, cultures and time. Slow Dance mixes ideas of the feminine and masculine, bitter and sweet, in a rich, intoxicating distillation redolent of warm skin and breathless exchange."
And this description perfectly aligns with the scent of Slow Dance. The $175 amber perfume begins with a top note of opoponax, also known as sweet myrrh, which acts as a smoky and sweet invitation. Then, it unfolds into a deeply floral heart, made of violet, labdanum, and geranium. The base tying the fragrance together is a unisex combination of vanilla and patchouli. As with any BYREDO perfume, expect staying power, too — this is a scent that will delicately cling to your skin and clothing for hours.
For those that want to take a walk down memory lane, you can relive your heart-pounding dance experiences by visiting BYREDO's official Instagram account, where it's posted a film celebrating the release of Slow Dance. One more click over to BYREDO's website will let you order the perfume for yourself (or its hand cream and hair perfume counterparts) — which you should consider doing. After all, isn't homecoming right around the corner?
Shop BYREDO's New Slow Dance Perfume Below