This Actor Wore A Million-Dollar Necklace To The SAG Awards
Frazer Harrison/Getty Images Entertainment/Getty Images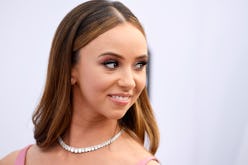 While award season red carpets see no shortage of truly glamorous ensembles and accessories, once in a while, one look will stand out as particularly luxe. Enter: GLOW actor Britt Baron, whose necklace at the 2019 SAG Awards was particularly stunning and memorable, thanks to its price tag.
While the actor looked every bit the star in her beautiful pink Christian Siriano gown, it was her jewelry that quickly stole the spotlight. Yes, Baron showed up to the red carpet with a Gismondi diamond necklace that retails at over one million dollars. The brand's Ghiaccio necklace includes over 50 carats of white oval-shaped tapered diamonds and has an exact price tag of $1.1 million.
While surely not the first set of pricey jewels to grace a red carpet event, Baron's felt particularly special due to its otherwise simplistic and classic design. The diamond strand delivered a glamorous touch without being overwhelming or overshadowing Baron's look. In fact, the whole ensemble was very reminiscent of Gwyneth Paltrow's iconic 1999 Oscars look, which also included a soft pink gown and diamond accessories. This appears to be a winning combo.
Sun.'s SAG Awards wasn't the first or last red carpet on which Gismondi has appeared. Founded back in 1754, the established jeweler has been a staple in the industry and entertainment world for centuries. Most recently, the brand provided gold jeweled earrings for Angela Bassett at the 2018 Emmy Awards. And remember the jaw-dropping cascading emerald necklace Jane Fonda wore to the Emmys the year prior? Yep, that was Gismondi, too.
Each Gismondi piece has a story — and requires a fleet of artisans to carefully compile them (Fonda's iconic necklace is said to have taken 600 hours to create.) With seven generations of jewelers perfecting the family craft, it's no surprise the pieces are worth millions.
Baron attended the event in support of her hit Netflix show, which was nominated for several awards, including "Outstanding Performance by an Ensemble in a Comedy Series" and "Outstanding Action Performance by a Stunt Ensemble in a Comedy or Drama Series." Suffice to say, the actor looked every bit the winner in her pink gown and baubles. Sounds like the perfect occasion to wear expensive jewelry (but, really, when isn't?)
Baron wasn't the only GLOW star to bring her A-game to the SAG Awards. No, it seems the whole cast was united in bringing the drama. Alison Brie wore a stunning Miu Miu confection that featured wing-like bows in the back (which she had to be sewn into). Betty Gilpin went metallic in a silver beaded tiered Krikor Jabotian gown that she complemented with soft retro waves. Sydelle Noel embraced electric shades and wore a tangerine J.Mendel gown, while Gayle Rankin wore a red Sandra Mansour gown.
Ahead, take a look at Baron's million-dollar necklace for yourself. It's truly something.