Boy Smells' Valentine's Day Candle Collection Just Dropped & It Includes The Return Of An Old Best-Seller
Courtesy of Boy Smells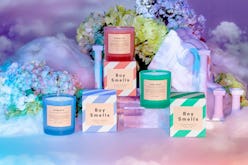 You know that old cliche, "love is in the air"? Well, thanks to Boy Smells' new Love Collection, it seems like love really is going to be in the air. The L.A.-based candle company released two new candles on Jan. 10 – with the special addition of an old fan-favorite – as part of its Valentine's Day collection, and you (or your partner, *hint, hint*) are going to want to snag them before they're gone.
Ringing in at $36 each, the pastel-hued collection — which includes Jade Vert, Rosalita, and the reissued, previous best-selling scent, Dynasty — "elevates the sensory experience, evoking that out-of-body, weightless feeling of being in love," according to a press release. Seeing ethereal clouds and dancing cherubs right about now? Same. Daydreaming aside, each candle features its own unique scent – from natural and woodsy to impactful florals – so choosing which one works for you depends on what kind of vibe you're going for.
For those who shy away from strong florals, the new scent Jade Vert may align most closely with your preferences. Its baseline is green (as is its glass) and woodsy, with fresh notes of mint and basil. Daffodil, cypress, and juniper berry round it out, while it finishes with rich fig and tarragon spice notes. It's simultaneously calming and alerting, making it a great scent for lounging around or setting the mood.
The other new scent? Rosalita, which is sure to match any millennial's vanity thanks to its bright pink shade. While it's similar to Jade Vert with hints of nature, it also brings an unexpected flowery scent that mixes cassis and saffron with the sweet smell of Turkish rose petals. Balancing out the sweeter notes are amber, leather, and cedarwood, ultimately creating a scent that's somehow both floral and woodsy.
And last, but certainly not least, is Boy Smells' sky-blue Dynasty candle, which is a previous best-seller that hails from its Chromesthesia series 1 collection. The classic scent is fresh and ultimately floral, with a main blend of rhubarb, cyclamen, and tulip. Pink peppercorn sprinkled in at the end helps offset the sweetness and add a touch of spice.
If the candles alone are enough to make you giddy, know that Boy Smells is heavily invested in the entire aesthetic when it comes to manufacturing an experience (no complaining here). Which is why, for this special love-filled collection, it's offering patisserie-striped boxes in place of the traditional matte packaging. The reason for this change? It's an homage to American painter Will Cotton, who's "famous for his ethereal masterpieces featuring Candyland-esque, heavenly landscapes," the brand explained in a press release.
Shop the collection now on Boy Smells' website or in select retailers that feature the brand. Otherwise, keep scrolling for a closer look at the collection and start clearing out a candle-sized space (or two) on your shelf.