Why Bite Beauty's New Lip Stain Should Be On Your List Of Summer Beauty Must-Haves
Bite Beauty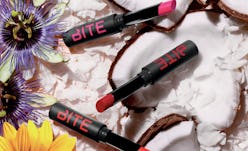 Bright, bold lips are the ultimate makeup goal for summer. Honestly though, it can be pretty difficult to achieve, especially when the elements are against you. But since there's really nothing better than throwing on a breezy, colorful outfit with an equally bright lip color in the middle of July, you're probably still looking for a way to make it happen, regardless of the constant barrage of sun and water trying to ruin your makeup. Bite Beauty obviously realized the struggle, though, and thankfully made its new Outburst Longwear Lip Stain just in time for summer's long-awaited arrival.
True to Bite Beauty's mission of being a clean beauty brand, $24 stain is made up of several gluten-free, vegan ingredients (it also earned a Clean seal at Sephora). And the brand clearly recognized the needs required of summer makeup, including ingredients like coconut oil, passionflower oil (which contains vitamins A and C, according to the product's description), and sunflower oil to keep lips moisturized when that summer sun inevitably dries them out.
But the real star of the formula? Sunflower seed wax, which according to the brand "locks in moisture and color, for all-day wear." The result is a lip product that's designed to be water-resistant and budge-proof, but also doesn't leave you with that uncomfortably dry and powdery feeling that stains often have.
Along with its moisturizing and long-lasting powers, the lip stain comes in three summer-ready colors for you to choose depending on your mood. "Strawberry Frozé" is a punchy pink shade, and provides a fun pop of color that's slightly less classic. There's also "Orange Fizz" which an orange-tinted red that would look beautiful paired with those bright shades in your closet like blue and yellow. And the collection rounds out with "Sangria Slush," a deep red that's perfect for a night out and is arguably the best option for that "popsicle lip" effect (which you can easily achieve by blotting the color onto your lips with your fingers).
Bite Beauty's new Outburst Longwear Lip Stain dropped April 19, and is available to shop on the brand's site in addition to Sephora.com and Sephora stores. Ahead, the three new shades for you to choose from — or just grab them all, because this is definitely a launch that should be a staple in your summer makeup routine.