Beyoncé Wore French Tips To The Golden Globes & Before Long, You'll Be Following Suit
Gareth Cattermole/Getty Images Entertainment/Getty Images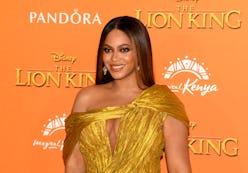 It's safe to say the subtlest thing about Beyonce's Golden Globes look was her French manicure. Between the supersized Schiaparelli dress and those 250-carat chandelier earrings, her minimalistic white tips were certainly the least dramatic component of her over-the-top ensemble, which makes them all the more interesting. Proof, therefore, that this nail trend can be worn with literally anything.
Perhaps no one noticed this tiny detail because Beyoncé and Jay-Z skipped out on the red carpet altogether, in true Carter form (they also brought their own Ace of Spades champagne). The couple opted instead for their own, more upscale photo shoot, which they have ever-graciously shared with the world on Instagram.
In some of the photos, Beyoncé is sporting a pair of pure-glam sheer opera gloves with red jewels on the tips. When she finally does reveal her nails, they're refreshingly simple: almond-shaped (one step away from being pointy) with classic white tips.
The singer's love affair with French tips began back in her Destiny's Child days, but she brought them back this past summer after a decades-long hiatus. In fact, she became so fond of the old-school nail trend that she wore French tips three times in a single week.
Bella and Gigi Hadid — goddesses of throwback fashion — were quick to hop on the bygone trend, as was Kim Kardashian. That's all it took for French tips to make a comeback almost overnight and, judging by Sunday's Golden Globes red carpet, they're still going strong.
Scarlett Johansson debuted the most delicate of French tips with her scarlet Vera Wang gown while Jennifer Lopez accessorized her iconic bow dress with a glittery, ombré version. Awkwafina, on the other hand, opted for a very modern "French moon."
French manicures are, indeed, on the docket for 2020 nail trends, experts say. You can expect to see the incorporation of color (see: Kaia Gerber's rainbow nails) and glitter, like J. Lo's, in the coming year. Awkwafina's "French moon," as well as the half moon, reverse moon, and celestial inspiration of all sorts are in the forecast, too.
Fortunately for you, Beyoncé's French tips are entirely recreatable even without the help of her world-class manicurist, whoever that may have been (Miho Okawara, most likely). A few easy steps and products to get you started, ahead.