Benefit's New Hydrating Primer Is Here — Just In Time For Winter Weather
Benefit Cosmetics/Instagram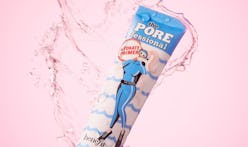 Benefit Cosmetics' POREfessional family is growing once again. On Dec. 10, the long-awaited and highly anticipated Benefit The POREfessional: Hydrate Primer finally arrived at stockists, bumping up the brand's popular pore-minimizing primer collection up to a total of three. This time, though, unlike the more texture-focused products previously released by the beauty brand, the Hydrate Primer is formulated to, well — you can probably guess.
Retailing at $32 for a full-sized tube and $13 for the Mini Hydrate Primer, Benefit's latest creation has the same silky prowess as the original POREfessional Primer plus the added benefit of moisturizing sodium hyaluronate. Glycerin and shea butter also make an appearance in the ingredients list, and add to the primer's hydrating power. Regardless of the bonus moisturizers, the Hydrate Primer's texture is still surprisingly similar to the first POREfessional, too; its oil-free formula is smooth to the touch and will layer seamlessly under your makeup.
Make no mistake, though: Benefit's latest release is definitely still a primer first and foremost, even with the water-attracting sodium hyaluronate. Like the OG POREfessional (and The POREfessional: Pearl Primer), the new version is a silicone-based primer — the second ingredient on its list on Ulta's website is cyclopentasiloxane, to be exact. This is the reason why applying a layer gives your skin that covetable smooth, pore-free, and "air-brushed" look; and if you've never tried one out before, just take a moment to read through the original primer's thousands of perfect reviews to understand why people consider it a cult fave.
You have options when it comes to where you buy the new launch, as well. You can find The POREfessional: Hydrate Primer at beauty retailers such as Sephora, Ulta, and Birchbox, as well as at Macy's, ASOS, and Urban Outfitters. Or, you can always pick it up on Benefit's own website.
But no matter where you grab your own tube, it's bound to become a staple in your cold-weather beauty routine. Ahead, the new POREfessional: Hydrate Primer, available just in time for winter.