How Makeup Primer Saved My Hair On A Rainy Day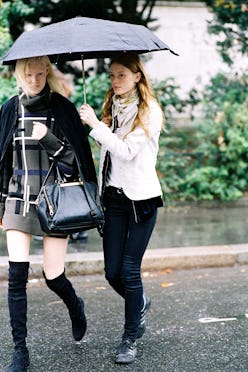 I know I'm not the only one whose hair gets frizzy on rainy days but that doesn't make me feel any better about sporting a wild 'do when the weather strikes. With a plethora of products constantly filtering through the office, you can imagine how many I've tested in hopes of finding a solution to my little problem. So imagine my surprise when I came to find that the product that worked best wasn't even made for hair. I know—just hear me out.
You may wonder how I came across this discovery. I was getting ready one morning—conveniently on the worst day of El Niño—and accidentally pumped too much clear primer into my hand when I was doing my makeup. Since it's a sin to waste beauty products in my house, I shamelessly rubbed the excess into my hair. It instantly made my hair feel silky smooth and the style didn't budge when I stepped into the dreaded storm.
I know exactly why it worked, too. Primer contains silicone, which is an ingredient that is commonly found in hair products to create a smooth film on any surface. And while some might argue it's bad for your skin and hair because it clogs pores and follicles, I believe everything is okay in moderation (and yes, this theory also applies to pizza). I haven't defaulted to using primer in my hair on a daily basis, but the next time you see me caught in a rainstorm with zero frizz, you'll know why.
The Alternatives