Benefit Now Has A Brow Pencil To Match One Of 2019's Biggest Hair Color Trends
Grosescu Alberto Mihai/Shutterstock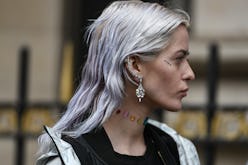 Matching your brows to your hair color is easier said than done. Even the smallest variation in shade or tone can throw the entire operation off, and send you back to the drawing board (aka Sephora). Which is exactly why the shade ranges of Benefit's Precisely, My Brow pencil and Goof Proof pencil just grew; the beauty company introduced four new, hard-to-find shades to both $24 brow products on April 1, helping shoppers everywhere get a better shade match the first very first time. For those following along at home, that means Benefit's brow shade range just leapt up to 12 — which makes it the largest in the industry, according to Benefit.
"Beauty is and always has been seasonal — during spring and summer, you put away your dark berry lipsticks and smokey eye palettes and pull out your peach blush and golden highlighters. You might even bring back your summer balayage. The same should go for your brow pencils!" Jared Bailey, Benefit Cosmetics Global Brow Expert, said in a press email. "Whether you're brightening up your look or looking to add texture and contrast, brows should always be an integral part of your beauty routine. With 12 shades, it's easier than ever to get creative with your brow style and try something new this season!"
And Benefit's latest shades are all about trying something new. The four never-before-seen shades are named 2.5 (a neutral blonde), 2.75 (warm auburn), 3.75 (warm medium brown), and "Cool Grey" — a versatile color that could be used by anyone with naturally gray or white hair. The cool color is also perfect for those who've embraced trendy shades like icy blonde, lavender, or silver. Basically, if you've left toner in your hair for an extended amount of time, "Cool Grey" may be just the shade you need.
However, the other shades are still a must-have in 2019, even if they're a bit subtler. Depending on the natural color of your brows, the new 3.75 shade may be the exact match you've been searching for if you've jumped on board the "chocolate cake" hair trend. With the trend's richly warm highlights, it needs a pencil that isn't ashy or cool — and Benefit's new warm brunette shade is up to the task.
Of course, you may have your eye on the other two shades — news of a true warm auburn eyebrow pencil may've already made you run for Benefit's website. Regardless of which shade and pencil are right for you, grab yours by following the links below.