Bella Hadid Got A Yellow French Manicure & Now You're Going To Want Colorful Tips, Too
Dimitrios Kambouris/Getty Images Entertainment/Getty Images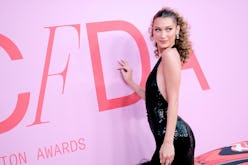 They've been saying it for a while now: Nail trends are moving in a '90s direction. Next, you'll be seeing butterfly stickers and rhinestones, but for now, let's focus on Bella Hadid's French manicure with yellow tips. The model just gave her favorite retro beauty fad a modern makeover.
Remember those intricate nail designs you saw in Seventeen and tried to recreate using a toothpick? Or the drugstore press-ons that fell off after only six hours and ended up mostly decorating your bedroom floor? Maybe Hadid was too young, but the rest of us can never forget how arduous '90s nail art was.
This time, you'll have to call up your manicurist for fancy tie-dye and neon leopard print because rest assured these trends are coming back into style if Hadid has anything to do with it. She's been throwing it back to the bygone decade with her classic white tips for a while now.
But this time, she's given her Frenchie an updated look. On Thurs., the 22-year-old posted an Instagram photo of a yellow French manicure, which she flaunted amidst her coveted collection of crystals.
The mystical caption — " ... Can't believe there are moon stones n diamonds and crystals that look like this ... " — made no mention of the manicure, but you know her intention was to show it off.
Especially because the day before, she posted yet another photo, this time on her Story, of her nails placed strategically against the crystal and surrounded by the hands of two mystery friends with matching manicures. Theirs, however, were blue and red.
Hadid has been playing around with the classic Frenchie lately, working in a swirl while on vacation in Greece and rocking plain old thick white tips while in Cannes. Others like Rosie Huntington-Whiteley, who just debuted a "reverse Frenchie" on Instagram, are into the resurfacing trend, too.
It's clear to see that colorful tips are what's to come in the French manicure saga, so be the first to sport them using these The Zoe Report-approved products, ahead.
Shop The Products