Hate Black Tights? These 9 Outfits Will Convince You Otherwise
Pixelformula/Sipa/Shutterstock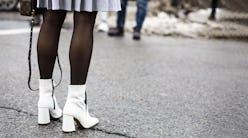 We all know those magical women who step out in the dead of winter with bare legs and swear, rather convincingly, that they're fine and totally not cold at all. Unfortunately, I am not one of those women. Fully exposed stems sounds like misery to me, so if I'm not wearing pants, then I'm definitely wearing tights — and possibly two pairs. I like tights (that's what 12 years of ballet will do to you), but for many others, the relationship with them is more adversarial. At best, they're a practical-yet-annoying necessity, at worst, a dreadful afterthought certain to ruin the outfit you laid out before checking your weather app. But alas, as the temperatures continue to drop with every passing day, it's time to accept reality and work those trusty tights into your cold-weather wardrobe. Yes, you can pull together cute outfits with black tights. Trust.
For starters, go beyond plain black. Patterned or fishnet styles can freshen things up and help you steer clear of a look that's dowdy or dull. And even within the range solid black options, the level of sheerness varies based on the denier (a measurement which describes the density of the fibers). For total blackout and maximum warmth, go for a high denier of 120 or more. For a sleek matte look that's slightly less thick, 100 denier is ideal. Values between 60 and 80 offer great medium-weight coverage, while 30 to 50 really starts to let your skin show through. Any denier lower than 30 falls in the realm of sheer hosiery.
From there, consider your footwear. Black tights don't have to be worn with black shoes. Think outside the box and style your stockings with anything from black Chelsea boots and platform brogues to red knee-high boots or sporty white sneakers to create different looks for any mood or occasion. Once you have these foundational pieces locked in, you can build out your ensemble. Black tights are ideal for winterizing those miniskirts and lightweight dresses you thought you'd have to stow till spring. Go cozy for day with opaque hosiery and lots of layered knits. For nighttime, do yourself a favor and work black tights into your party and evening wear. Continue below for nine outfit ideas that feature black tights done right.
Menswear Coat + Bright Blouse + Beret + Platform Brogues
Embrace your inner French gamine girl. An oversized masculine coat that hangs loose to the mid-thigh will make your tights-clad legs look miles long. Let a sunny yellow blouse peek out from underneath your outerwear to inject your look with a little color, then accessorize with shiny platform brogues and a beret. Add a furry stole if the weather calls for it — or if you're eager for some extra glamour.
White Shirtdress + Tall Red Boots + Slim Rectangular Shades
A crisp white shirtdress feels winter-ready with the addition of opaque black stockings and knee-high boots. Give this black-and-white look a cool, high-contrast update by choosing boots in a bold crimson red and adding sleek rectangular sunglasses. A few subtle pieces of gold jewelry achieve the perfect balance of trendy and elegant.
Bomber Jacket + Patent Mini Skirt + Chunky-Sole Sneakers
If you're hesitant about wearing opaque black tights with white sneakers, opting for legwear with less of a stark contrast might be an easier avenue of entry. A neutral bomber jacket and chunky white sneakers are classic sporty staples — use these to offset the edgy punk vibes of a textured patent miniskirt and black fishnet. If it's too cold for fishnets alone, layer them over a pair of sheer stockings for a little more coverage.
Scarf-Neck Sweater + Wool Skirt + Fur Bag + Combat Boots
When piling on the woolen textiles and knits, you can get away with going for thinner tights. A dainty dot pattern pairs perfectly with a nubby wool mini, while a chunky scarf-neck sweater and combat boots will run defense against the elements. Add socks and scrunch them down over the tops of your boots if your feet could use an extra layer. And don't forget to grab a slouchy fur bag — it's the ultimate cuddly winter accessory.
Leopard Fur Coat + Lacy Slipdress + White Sneakers
'90s babes will be all about this look. With your legs fully shielded by a pair of thick black tights, layer on your favorite lace-trimmed slipdress and a cozy leopard faux fur for peak grungy-glamour. Need an extra layer? Wear a long-sleeved tee or turtleneck underneath your dress. Finish the look with some classic Stan Smith kicks, or lean into the '90s vibe with some worn-in Doc Marten boots.
Rainbow Knit + Sequin Skirt + Patent Pumps
Winter blues got you down? Counter that vitamin D deficiency with your own set of summery brights. Rainbow hues liven up the look and create a bold contrast against the dark black. Wear a splashy striped sweater and a multi-colored sequin skirt with tights and patent pumps for a mood-lifting party look that's full of sparkle and shine.
Tailored Blazer + Plaid Skirt + Lace-Up Boots
Consider this look Clueless for the non-California crowd. A schoolgirl blazer and plaid skirt plus heavy black tights and heeled boots is how Cher Horowitz would dress were she not blessed with that beautiful Beverly Hills weather. A black-and-red palette is especially seasonal, but feel free to adjust to brighter or bolder hues should you so desire.
Long Blazer + Over-the-Knee Boots + Backpack
Overhaul the private school uniform aesthetic with a sexy update. In place of a traditional blazer-and-skirt set, choose a longline blazer that you can wear over something else or on its own as a dress. Over-the-knee boots take the outfit to grown-up territory, especially when worn with semi-opaque tights that reveal a glimpse of skin at the top of your thighs. Complete your ode to the collegiate prep look with a mini backpack.
Puff-Sleeve Blouse + Animal Print Skirt + Embellished Pumps
Don't suffer through an evening of shivering as you hop from party to party. A holiday ensemble can feel just as fancy with tights as it does without. Bejeweled black pumps connect seamlessly with a luxe, opaque tight, creating a flattering elongated effect. A puff-sleeved blouse and exotic zebra print midi skirt balance the romantic and the edgy for a wholly of-the-moment, but not too over-the-top ensemble that you can wear from the office party to after-hour cocktails.