Bella Hadid Showed Up To Milan Fashion Week In $137 Mules — Here's Where To Buy Them
Jacopo Raule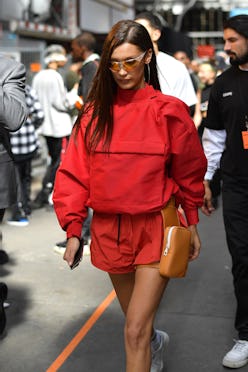 They say imitation is the highest form of flattery, and so many celebrities have a keen sense of style that's definitely worth copying — even more so when they're spotted wearing items with surprisingly affordable price tags. Enter, Bella Hadid's blue mules — which are ridiculously on trend and under $150. Done and done.
After landing in Milan on Wed. afternoon ahead of Fashion Week, Hadid was photographed arriving to the Alberta Ferretti show along with her older sister and fellow model, Gigi Hadid. The pair tightly grasped hands as they navigated through the sea of paparazzi and fans, desperate to get a quick snapshot of the ultra-famous duo.
Hadid opted for a pair of satin, heeled mules with a dainty bow by Australian label Senso. The model wore a sheer, cut-off top, structured blue trousers, and kept her hair out of her face with a tight updo. Hadid never forgets to accessorize, and this time she went with thick, gold hoops, a gold chain necklace, and an ivory shoulder bag.
Hadid has become known for taking risks with her fashion choices over the past year and has fully embraced the resurgence of cowboy boots, retro hair accessories, and matching suit sets. But even when she opts for simpler looks (like so), the 21-year-old model has a special way of making it her own.
Not only are Hadid's mules budget-friendly, but they're also a perfect match for plenty of ensembles that are already hanging up in your closet. Wear them to work with a trendy pantsuit, a logo printed tote bag, and chunky gold jewelry. If you're headed out to a cocktail party or even date night, Hadid's shoes pair well with a slip dress, leather jacket, and a smoky eye. They even work with jeans, a t-shirt, and your favorite knitted cardigan (another style Hadid has frequented lately).
This isn't the first time a celebrity's been spotted wearing the affordable shoe brand. Kendall Jenner and Gigi Hadid, two other members of Bella Hadid's famous clique, have also worn pieces by Senso in recent months.
Below, pre-order Hadid's mules while you still can — the affordable price point and perfect color means this style won't stay on shelves for long. In the meantime, The Zoe Report rounded up a few of Senso's best-selling shoes (all of which you can add to your card immediately).
Shop The Look