This Drugstore Brand Just Launched A Dry Shampoo That Actually Keeps Hair Hydrated
Shutterstock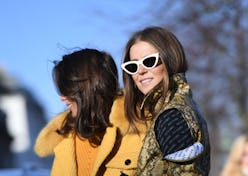 Once you've discovered a great dry shampoo, it becomes one of those holy grail beauty buys that you can't even imagine going without. It helps you fake a fresh look on the days you can't find the time to shampoo your strands, and adds touchable texture that gives flat hair a helping hand. And even if you've already got your go-to bottle, Batiste's Hydrating Dry Shampoo may just get you to replace it this season — it's lightweight, invisible, hydrating, and well under $10.
Drugstore brand Batiste is already one of the most popular dry shampoo lines available, thanks to its wallet-friendly price tag and wide variety of effective formulas (the brand's OG version has over 500 glowing reviews at Target). It's hard to see how Batiste could get even better, but the two latest additions to its dry shampoo collection may prove it's totally possible.
Batiste's brand-new dry shampoos just landed at Target, and the unique formulas couldn't have come at a better time — they'll immediately fix all your winter haircare problems. Because if the coldest season is causing your hair to feel dehydrated, brittle, and a little lifeless, the last thing you want is a dry shampoo that'll lead to further damage to your strands.
That's the idea behind Batiste's Hydrating Dry Shampoo, $6.99 at Target, which works to refresh your tresses without drying them out, thanks to one of-the-moment hero ingredient. The new formula uses avocado extracts to nourish and condition dry hair, while Batiste's blend of starches weightlessly and invisibly absorbs the excess oil at your roots. The result? Expect soft, rejuvenated hair that looks just-washed.
But if the frigid, dry weather has your hair falling flat, the solution to your situation is the brand's Volumizing Dry Shampoo. Batiste's new volumizing formula, also at Target for $6.99, was created to instantly revive hair with va-va-voom levels of body and texture as it banishes excess oil. The clean-feel formulation works alongside collagen to create so much volume and bounce, it'll be as if you just got a salon blowout — pretty unheard of for second or third-day hair.
Both new arrivals are practically foolproof to use; simply shake the bottle and spray about a foot away from your roots. Massage it in with your fingertips to get the formula working, then brush strands out and style as needed (try this super-speedy ponytail, perhaps). Convinced you need to try Batiste's affordable new formulas? See and shop them below, or snag a bottle or two during your next Target trip.