The Newest Balenciaga Track Sneaker Is Here — & It's Going To Sell Out Fast
Courtesy of Balenciaga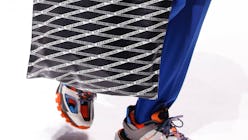 Chunky sneakers are taking over the world. Maybe that's dramatic, but it is pretty hard to walk down the street or scroll through your phone without seeing a pair, and the trend doesn't seem like it's going anywhere soon. One of the most notable chunky sneakers of all, though, is the Balenciaga Triple S trainer. Yes, it is a tennis shoe that retails for almost $900, but it's everywhere you look (and constantly sold out). Luckily for fans of this popular shoe, though, Balenciaga's new Track sneaker launches on Sept. 24 — and judging from the past, this one will sell out fast.
With high-tech additions, this newest shoe wasn't just made for street style (though it's inevitable that it'll end up there, too). The Track sneaker, which runs for $895, includes features like extended tread, overlapping protective panels, and fortified soles — all of which give the shoe its very sporty appearance along with the usefulness of the shoe for those wearing it not for fashion purposes.
The new Track sneaker was designed by Balenciaga Artistic Director Demna Gvasalia, and is arguably more athletic than the last pair of tennis shoes from the brand. However, for 2018, it's the perfect balance between fashion and function — it's sporty-looking, decidedly dad-like, and definitely a statement (all very much on trend right now) — all while bringing utilitarian elements that allow it to be worn hiking or running. Considering many iterations of trendy tennis shoes aren't actually made for activity, this new update is a welcome addition.
The bright colors available only add to the eye-catching nature of the shoe — the women's version is available in two colorways: bright yellow, and an orange, blue, and white version that's impossible to miss. In addition to the women's sneakers, the launch will include men's sneakers in five colorways as well.
It may seem difficult to style this unusual trend, but take it from the countless influencers who have adopted the chunky sneaker into their everyday wardrobes: It's easier than you think. In fact, the key is typically juxtaposition — just choose a non-sporty look in your closet and the difference between the shoes and your outfit will inevitably (somehow) balance out perfectly.
On the flip side, the sneakers don't have to be paired with non-athletic wear — they look just as at home with athleisure and your favorite gym gear. In other words, they're one of the most unexpectedly versatile shoes out there — and now, there's a new version for you to try out before it floods your Instagram feed.
On Sept. 24, Balenciaga's new Track sneaker will be available in the brand's store on Rodeo Drive and online. But take note: the shoes are only available in a limited quantity, so they're bound to sell out at lightning speed. Shop them below before they're gone.