Baggu Dropped A Bunch Of New Styles & They're Right In Line With This Major Summer Trend
Baggu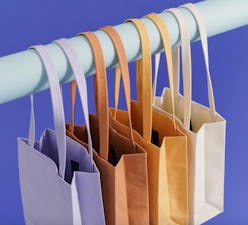 Honestly speaking, the "rules" of fashion have gone long out the door. However, different trends are often still associated with a specific time of year. Think about it: More likely than not, you wear more neutrals and deep jewel tones during the colder months. And for the warmer times of the year, the bolder, brighter prints and hues come out to play. June Gloom aside, summer is practically here, which means it's time to break out colorful new pieces like the summer styles from Baggu.
Just in time for you to frequent the farmer's market, beach, or any other sunny destinations, Baggu has dropped a new set of styles for summer that will add a fun touch to any activity. And if you happen to be on a mission to remove disposable bags from your life, these will make for the perfect alternatives.
If there's one style from the drop you cannot miss, it's the Canvas Market Tote, which is available for $48. Designed to look like the classic brown paper bag, this minimalist style will be one of the sleekest options among the reusable bags to take with you to the grocery store. But in case you're looking for something smaller for everyday moments, there's also the $36 Canvas Retail Tote, which will hold everything you could need.
Among the other new styles from Baggu, you'll find the adorable Fruit Pouch, $46. Made with smooth leather, the pouch — which is available in three colors — takes on one of summer's most popular trends. Use these for holding loose coins, bills, or credit cards inside your larger purses. Or if you want to forego a bag altogether, slip it into your back pocket or hand as a sweet accent to your summer looks.
Of course, what would a new launch from Baggu be without an iteration of one of its collapsible bags? For summer, the brand has a new version of its $34 3D Zip Set, which features statement-making prints with vegetables, greens, and other market food motifs. With three different sizes included in the set, you can use these playful bags to pack for your next vacation or organize your favorite snacks on a picnic.
Scroll down to see Baggu's summer styles below.