Bagatiba's New Collection Is Bringing Minimalism Into Personalized Jewelry
Courtesy of Bagatiba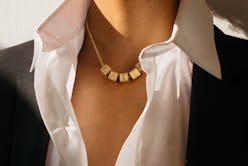 Whether you know it or not, you're living through the golden age of personalized jewelry. The trend sits at the crossroads of customizable, DIY jewelry and vintage-inspired baubles — two styles that, more than likely, have magically appeared somewhere in your collection this year. However, Bagatiba's Build It collection throws another one of 2019's favorite jewelry trends into the mix: minimalism. And somehow, it all fits together seamlessly.
Though this is Bagatiba, the affordable, trendy jewelry brand that came out of almost nowhere and is now sported by the Hadid and Jenner crowd. There may be nothing that it — and founder Jessie Andrews — can't make look completely effortless; something that's apparent in this new addition to the brand. With an à la carte menu of block letters, flower and heart-shaped beads, and soda tab-shaped charms, it would've been easy for the Build It collection to look either too young or outdated. Fortunately for shoppers, it's neither. The clean, metallic jewelry collection drops April 18 and is playfully nostalgic while still firmly remaining sleek and chic.
"The Build It collection gives everyone the freedom to build a unique piece for any occasion. You can add the beads and letter blocks on different necklaces, bracelets and earrings. Even ones that you already own!" Andrews tells The Zoe Report via email. "I want the person who buys each piece to have total control of what their necklace looks like, because one day I might not want all gold charms or I might not want a letter block, but I'm not tied down to one style."
And though Bagatiba's a certifiably cool brand thanks to its A-list fans (and Andrews herself), creating your own customized Build It necklace won't be a blow to your bank account. The cubic zirconia-spotted Diamond Soda Tab Charm — one of the most whimsical pieces from the collection — retails for just $68. "The soda tab is such a nostalgic charm for me. I used to wear them in high school around my neck as a choker. Now I look at this piece as a memory but elevated," Andrews explains.
Of course, if you have a name that's never available at stores, you may want to take this opportunity to make your own custom nameplate-like necklace out of the collection's block letters. Those retail for $80, while the bead sets range from $60 to $120. "I've been wanting to make a letter necklace for the longest time but every brand seems to be doing the same thing and it looks repetitive," Andrews says. "I also wanted people to be able to interchange letters and not be stuck with one necklace."
To shop Bagatiba's Built It collection, all you need to do is click over to the brand's website. And you'll want to get started on your custom Bagatiba piece now — since this isn't the end of the collection. "I'm working on releasing a horse pendant and a collection of zodiac charms," Andrews notes. Until then, shop the Built It collection's first round of customizable charms, beads, and letters below.