Here's Why (& How) Buzzy New Beauty Products Are Released At Fashion Week
Roy Rochlin/Getty Images Entertainment/Getty Images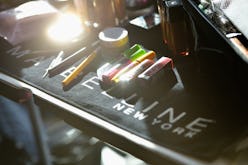 Hundreds of years before the first fashion week officially took place in 1943, Shakespeare aptly wrote in As You Like It that "all the world's a stage." This may not be a quote you reflect upon in the quiet mornings as you apply mascara or swipe on your favorite lipstick — but it can succinctly summarize how some of your favorite makeup may've wound up in your personal collection. You see, long before you buy buzzy new beauty products, those much-reviewed, cult-famous, YouTuber-approved gems often pass through one of fashion's grandest stages: New York Fashion Week.
"We are constantly creating products that stand up to the ultimate NYFW test," Amy Whang, SVP of U.S. Marketing at Maybelline New York, tells The Zoe Report over email. "Maybelline products are curated to be high performing and trend driven, embodying the New York City spirit and energy that is New York Fashion Week." And yes, this means you can often spy something new walking the runway. "In addition to its portfolio of existing products, we often preview forthcoming launches backstage each season, which is something you can expect to see again this season," Whang adds.
This hands-on involvement comes as no surprise, though — seeing as Maybelline is the official beauty sponsor of New York Fashion Week. But why would any beauty brand go to the trouble of timing a product launch with an already incredibly busy week, and what goes into the inherently creative, collaborative process of premiering on the runway? To find out more about how the fashion and beauty industries team up to create the next-best-thing in makeup — and can use NYFW as the vehicle to do so — just keep scrolling down.
Creation
Of course, before a highlighter sparkles on the runway, it first has to be brainstormed into life, formulated, and produced. "The MAC Artistry Team works very closely throughout the year with the MAC Product Development team to discuss textures, formulas, and colors of future products," MAC Executive Director of Global Makeup Artistry, Lyne Desnoyers, tells TZR via email. "So backstage represents a fantastic laboratory for us. Our products are getting tried and tested for their durability, ease, style relevance, and everything in between. If they work in this environment, they will work everywhere!"
That isn't the only perk, though. "Not only does MAC utilize backstage as a time to spot trends, lend artistry support, and test new innovations to our product lineup, MAC also leverages our press, artistry, model, and influencer community by identifying needs in the beauty space," Desnoyers adds. "As a result, we're happy to have collaborated and developed custom collections with many of the designers we support, most recently including Prabal Gurung, Chromat, The Blonds, and Jeremy Scott, whose collections were all used backstage at their shows."
This inevitably creates a link between a makeup brand and fashion week — AKA something incredibly forward-thinking, trend-setting, and oh-so chic. "Fashion is a key focus for the Maybelline brand. By having a presence and activating at NYFW for the last 10 years, Maybelline is able to embody the city spirit and energy that inspires our consumers and build upon our fashion equity," adds Whang. "The partnership accomplishes a few things. It allows us to democratize beauty, inspiring her with looks from the runways and how she can achieve them at home, gives a firsthand look at new product launches, and allows us to provide education through tips and tricks from our arsenal of top makeup artists that lead these fashion shows on our behalf."
Runway
Speaking of shows: It takes serious time to scheme up the fleeting runway looks. "Typically two to four days before the show, the makeup, hair, and nail teams will meet with the designer teams for a beauty test," Erin Parsons, Maybelline New York Global Makeup Artist, explains to TZR over email. "It's there that the designer teams communicate the inspiration behind the collection and we brainstorm creative ideas to make the beauty look pop. From there, I will take that inspiration and turn it into a look using my top Maybelline products."
And which new products get showcased — if any — depends on the vision created for the unique show. "I have my tried-and-true products, such as Colossal Mascara and Fit Me! Foundation, that are often my go-to, but typically the products used are dictated by the direction of the look," Parsons adds. "To ensure the glam is just right, I always play around with a few different versions of the look, working with different Maybelline products, formulas, and textures. Often times, Maybelline will supply me with the first samples of upcoming launches to test backstage."
Frazer Harrison/Getty Images Entertainment/Getty Images
Nevertheless, there are moments of sheer synchronicity, such as the premiere of the Made For All Lipstick By Color Sensational at the Cushnie Spring/Summer 2019 last year. "We always work hand-in-hand with our designer partners to pair the perfect product needed to complement their vision. Made For All by Color Sensational was the perfect product to debut at the Cushnie Spring/Summer 2019 show, as the universality of the product aligned with the diversity of both the models and the collection," says Whang.
"Last season, makeup artist Dick Page debuted the reformulation of the Color Tattoo 24 Hour Eyeshadow at the Proenza Schouler Fall/Winter 2019 show, and it was strategically chosen to align with the menswear fabrics and tailoring within the collection," she adds. "Since Color Tattoo is such a powerful product in terms of pigmentation and longevity — it was the perfect fit."
"It truly is a collaborative process," says Desnoyers. "Our job is to bring the designer's vision to life and together with the entire creative team, we design the look of the show taking into consideration the story of the collection and include everyone's point of view. It can be quite a complex process but it's always specific. Every single detail counts — from the texture of the skin all the way to the opacity we will give the eyeshadow."
Advertising
As you probably know, not everyone can attend a particular fashion week, or may even take the time to scour the sartorial news coverage for the latest and greatest; and how a brand translates that invigorating experience into a shoppable experience counts. "For the first time in brand history, during New York Spring/Summer 2019, MAC launched a limited-edition collection with fashion designer Brandon Maxwell, complete with shades and packaging inspired by his runway look," notes Desnoyers. "By announcing and launching on the same day, customers were able to purchase immediately, making this look go from the runway to the street in real-time."
And an Instagram post announcing the MAC x Brandon Maxwell collab's availability garnered close to 300,000 likes, over 200,000 more than the picture posted before and after. Whether you consciously buy into it or not, being "runway-approved" may help a product first gain traction — or, at the very least, catapults it onto the radar of shoppers. "NYFW has given Maybelline a unique opportunity to offer our global fans an inside look at NYFW. When launching new products during NYFW on social, engagement on average is over 265 percent above benchmarks," Whang explains.
Participating in fashion week doesn't just let a beauty brand into the ground floor of the fashion community. It lets them create that very space, turn around, and share it with shoppers; something that may be uniquely appealing when it comes to new, trendy product launches. "Following fashion month, MAC Directors of Makeup Artistry identify the top trends of the season which are shared with customers in the coming months," Desnoyers says. "Observing beauty trends and looking at the evolution of beauty gestures through our backstage experience is truly an ongoing conversation that we have with our consumers through our in-store activities, available services, and our social media channels.
"For example, looking at how red lips are reinvented each season, the nuances of applying blush or bronzer, the way we highlight skin or define the eyes with a blended or precise line, all speak to how beauty is very much influenced by a multitude of things and cannot be spoken about in a dogmatic way," she continues. "Lifestyle, culture, occasion, style, and mood very often will dictate how you apply that red lipstick, that black eyeliner, or bronzer. We share our experience, backstage stories, and product tips with our customer… they bring them to life!"
Shop Runway-Approved Beauty Products Below