Aritzia's Sale Has Everything You Need To Stock Your Wardrobe For The Rest Of The Season
Aritzia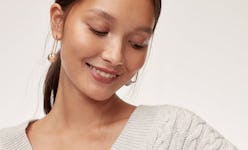 Thought you already scored all the best deals of the holiday season? Think again. Aritzia's winter sale has arrived, and with it comes some serious steals on pieces you've no doubt had your eye on all season. And while the many, many sales leading up to the holidays were certainly good, this one is here to show them all up with up to 50 percent off select fall and winter styles. Get your wallets ready, because this is a sale you can't afford to miss.
Aritzia's sale started on Dec. 24. and is happening both in-store and online, and there's a whole host of pieces on sale at incredibly low prices. Not sure where to start? While unfortunately it's still winter for a few months, that does mean that there are still plenty of days left to wear all the cozy basics included in the sale.
Start with the Wilfred Devry sweater, which gives a polished feel to the classic oversized knit. While it's typically $178, the sale puts it down to $88.99 — an absolute steal when it comes to luxe sweaters.
There are also several coats in the sale, which means you can replace that dingy coat you've been wearing for years with zero guilt whatsoever. The Babaton Carolee Coat, once $450, is marked down to $224.99 during the sale, and is the ideal neutral shade and minimalist silhouette to go with virtually everything in your closet. Looking for something a little more feminine? This Wilfred Cocoon Alpaca Coat in the rosy shade petale is now only $249, while it started at $428.
Round out your winter wardrobe with a few pants of warm pants as well. The Babaton Joey Pant is now just $65, and comes in a camel-colored corduroy that'll pair perfectly with every cozy piece in your closet. And for something even more comfortable, you can't go wrong with the Wilfred Allant Pant for $63.99 — they'll keep you looking polished at work, but you'll still get the feel of wearing something a little more relaxed.
Aritzia's proven time and time again that you can count on the retailer for timeless basics that go above and beyond in terms of style. And while every price is justified, it never hurts to have a discount on some beautiful pieces to help sweeten the deal.
Whether you're looking for some new basics to elevate your closet or you've just been waiting to score the best deals on your favorite pieces, you're in luck. The Aritzia sale is happening now online and in stores, so start shopping some of the best sale picks below and head to the brand's site for even more deals you definitely don't want to miss out on.