There Is No Female Architect Dress Code, So Gisue Hariri Made Her Own
Courtesy of Gisue Hariri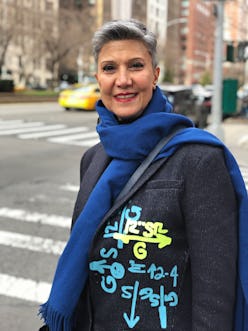 Dressing for a creative career in a male-dominated field presents unique challenges. When Gisue Hariri founded Hariri & Hariri Architecture with her sister Mojgan in 1986, there was no dress code for female architects. Over the past 30 years, Hariri has established her personal style, which is heavily influenced by sculptural forms, all while ascending the international ranks of the architecture industry. Hariri & Hariri's multifaceted approach to designing spaces has won them accolades from the likes of Architectural Design magazine, and has seen them included in exhibits at the Museum of Modern Art and the Guggenheim. In 2012, Swarovski tapped them to design a jewelry collection they titled "Kryptonite." The resulting head-turning statement pieces consist of the same striking lines and bold shapes seen in their buildings.
Hariri's use of bold-yet-sensual lines extends to her wardrobe, which she articulates as existing in the juxtaposition between the masculine and feminine. The result is a look that always makes a statement, and is entirely her own.
What piece instantly makes you feel more confident and why?
A statement jacket. No matter what else you throw on — whether it's a T-shirt, dress, or jeans — you can be ready for a business meeting or an evening event in a statement jacket. You never have to worry about the rest of your clothing! Unfortunately, I believe that there are very few distinctive statement jackets that have been designed in a structural capacity for women. The most innovative statement jackets on the market right now are for men. And while I often find myself perusing the men's section at Barney's, the fits of men's jackets often don't do much for women. I also tend to opt for all-white or all-black, with silver as an accent color.
My style evolved as I listened to my inner voice — it informs my clothing selection in the same way that it has informed my design.
How do you define your personal style?
Tough and elegant. I love the juxtaposition. I aspire to always be clad in a look that can work on a construction site, at a business lunch, and at a gallery opening.
How has your style played a role in your career? Has it opened or closed doors for you? Has it evolved as a result?
As a professional woman in a male-dominated industry, there was never a real dress code for female architects to follow, but I quickly realized that style plays a big role in an architect's career. Most of the star architects (or starchitects, as they're called!), had a signature recognizable style. For example, Corbu had round eyeglasses and Mies always had a big fat cigar and black T-shirts and red scarves. A woman architect's signature was typically always their haircut, like Eileen Grey, or Andrée Putman. My style evolved as I listened to my inner voice — it informs my clothing selection in the same way that it has informed my design. Everything needs to be sculptural, dynamic, and structured. I believe self-dress is similar to creating a walking work of art.
What fashion category do you feel is lacking? What would you like to see more of?
Clothing for working women who don't operate in conventional work spaces! I'm not talking about business casual; I'm referring to pieces that will help you take command of an industry because they demand attention and respect. Working women today are not afraid to be noticed, but still need clothing that doesn't overly sexualize them in the workplace. There's a space for the cross-section between femininity, comfort, and cool. I attempt to possess that space daily.
What is your daily uniform? How has it changed? Stayed the same? Why is it your uniform?
Currently, I'm loving a midi or maxi dress, or skirt with a turtleneck or a white dress shirt, layered with a long jacket or sweater on top. When I first started my career, I would exclusively wear pants. I didn't want to wear anything that could get me dismissed for being too "girly," which is essentially synonymous with naivety in my field. But now that I've reached a place where I feel my portfolio speaks for itself, I take solace in everything long and flowy. I find that Buddhist-style robes are comfortable and stylish, and when paired with something more structural, can create a much-needed textural exhale. I think I am in my monk state of mind — I spent several months in my youth living in a monastery, and am constantly yearning to reach a place of zen.
Accessories that are wearable art are not easy to find — and I feel like I designed the best of the best.
Can you recall an outfit you have worn that was iconic for you?
My wedding dress was designed by the late Gianfranco Ferré, an Italian designer known as "the architect of fashion," because of his tendency to create sculptural pieces. It was a pared-down white column dress with a sophisticated open back and detailing in gold lamé. I paired it with a netted headpiece instead of a veil. The entire look was a nod to old Hollywood glamour. It was not explicitly feminine but dripped with sensuality. It absolutely changed my life!
What style item do you covet the most? A category, a designer, a specific item?
Anything minimal and architectural. I love Issey Miyake's technology-driven designs. They are my absolute favorite. I am collecting his pieces! Issey Miyake's line, where all of the dresses and jackets are presented as two-dimensional geometric shapes, and are made from recycled polyethylene terephthalate mixed with natural fibers and dyes, which then unfold into structured garments. They're pieces of art, and eco-conscious to boot. When I wear them, I feel as if I am transformed into an abstract sculpture and a work of art.
If money were no object, what is one outrageous luxury item you would invest in and why?
Honestly, I would extend our Hariri & Hariri jewelry collection, "Kryptonite," which was originally designed for Swarovski. I would remake the pieces with semiprecious stones in white and yellow gold, and wear them all the time! Accessories that are wearable art are not easy to find — and I feel like I designed the best of the best.
Which item in your closet is your most beloved?
A facetted silver Chanel clutch given to me as a gift by my husband. Everyone thinks I have designed it, as it looks like some of the architecture, products, and jewelry of Hariri & Hariri Architecture!
This interview has been edited and condensed for length and clarity.