Aquazzura's New Collection Is Proof This Season's Seashell Trend Isn't Just For Jewelry
Aquazzura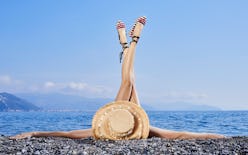 In the world of fashion, trends come and go. For some, that could mean one fleeting season, and for others, it could be years. When seashell jewelry took the spotlight as one of the biggest trends last summer, it seemed like one that would only stick around for as long as the season. Yet today, the trend is bigger than ever — and Aquazzura's Escapes collection proves that it's not just for jewelry anymore.
In the past, you might have only kept coral and seashell jewelry reserved for specific occasions, such as a beach wedding or a vacation in the Caribbean. Now, considering the momentum these seaside staples have gained over the past year, you might be thinking otherwise. And with the Escapes collection — which was created in collaboration with three other designers: Le Ninè, Rebecca de Ravenel, and For Restless Sleepers — you'll be able to take the trend everywhere you go.
The 18-piece accessories capsule collection includes seashell-laden bags, shoes, and naturally, earrings. Add any of these pieces into your ensembles and you'll instantly be transported to a tropical destination.
However, if you prefer to wear pieces that aren't adorned with cowry shells, there are also embroidered wedges and printed sarongs to take to the beach.
But if you want to sport the shell trend every day, opt for the Riviera Mini, $795. Created with Le Ninè, this crossbody bag has a drawstring fabric lining to keep all your belongings in one place. It also has crystal embellishments to accompany the shells, making it a perfect option for an evening out. For something larger to take with you when lounging by the ocean, opt for the $850 Riviera bag, which has a top handle to make it easier to carry on the go.
Keep the shell trend going and sport the $725 Riveria Sandal Flat, which has leather tassels at the end of the wraparound ties. And if you want to embrace another tropical trend, wear the Coraline Wedge Espadrille, which is a striped wedge with coral embroidery and ribbons that also tie around your ankles.
Of course, you can't forget about the earrings, which were created in collaboration with de Ravenel. Opt for a pair of chic coral-shaped Coraline earrings, which are made with hand-wrapped fabric cording and cost $345. Want a pair of statement makers? The clip-on Riviera earrings feature dangling cowry shells with delicate beading and are sure to catch someone's eye.
Now, scroll down to shop more pieces from Aquazzura's Escapes collection below.