Anthropologie's Summer Tag Sale Is Full Of Hidden Gems — Here Are The Finds You Can't Miss
Anthropologie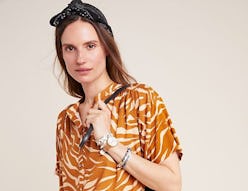 Here's a little PSA for serial shoppers: Your time is now. It's officially that point in the season where sales start popping up left and right, offering up ample opportunities to save on everything from seasonal must-haves to timeless staples. And if you've been avoiding all other shopping events until you find one that really wows you, get ready to call off the search. That's because Anthropologie's Summer Tag Sale is here, and it's got almost 2,000 items up for grabs at incredible prices. This one, friends, is worth your while.
As any savvy shopper knows, it's sometimes best to wait for the things you're eyeing to go on sale — especially if said items are from a store that's known for its epic shopping events. That's certainly true when it comes to popular mall store Anthropologie, a veritable shopping heaven that serves up several huge sales per year. And now's the time for its Summer Tag Sale, which may just take the cake as the most epic sale of all.
During Anthropologie's summer sale, shoppers will be able to score up to 70 percent off on products across all the store's categories. That's right, not only will you be able to stock up on summer fashion staples like sundresses, breezy tops, and sandals, but you can also save on of-the-moment accessories and investment home decor items from Anthropologie's extensive boho-chic collection.
The store's sale section has been completely flooded with reduced-price pieces — over 1,850 to be more specific — and the bulk are summer-appropriate buys to help you restock your closet. Explore the 12 pages and add items like high-end denim and hot weather-ready styles to your cart. The Makenna Floral Maxi Dress is down to $99.95 during the sale and more than ready for summer brunches or barbecues. To elevate the look, pair it with these Paige Sage Scalloped Heels cut to $179.95 (you could even get away with the ensemble at a more casual outdoor wedding).
Add essential denim to your cart like these AG The Stevie High-Rise Skinny Ankle Jeans or the DL1961 Farrow High-Rise Skinny Jeans, both down to $99.95, to pair with pretty blouses — this Victorian-cut style is completely on trend this season. And grab this Knotted Chiffon Headband, cut from $28 to $9.95, to add flair to all your outfits this season (and keep windswept strands out of your face).
Rather use the sale to refresh your home? Invest in a sleek new dresser, like the Nelson Five-Drawer style down 30 percent during the sale, or chic new fixtures like this Lana Macrame Chandelier marked down $120 less than usual. Save on decor that can totally transform a room, like the Marrakech Curtains down to $89 and this sweet accent mirror for $194.95.
There's plenty more reduced-price finds where those came from — keep scrolling to see some of the best pieces to score during Anthropologie's epic sale.