Anthropologie's New Advent Calendar Is The Perfect Gift For Your Home Decor-Obsessed Friend (Or Yourself)
Courtesy of Anthropologie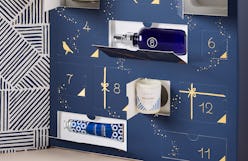 While you probably don't know what to give everyone on your holiday shopping list yet —it's still October, after all — at the very least, your favorite home decor enthusiast is now sorted. Although it's not officially available until Nov. 11, Anthropologie just dropped an exclusive Capri Blue advent calendar brimming with its iconic Volcano scent. And for those looking to get a jumpstart on their gifting, you can pre-order Anthropologie's Capri Blue 12 Days of Volcano Holiday Gift Set well before that official launch date. As in, right now.
And as any Anthropologie fan can tell you, the cult-favorite Volcano candle's fragrance is the store's trademark scent — literally. It's one of the reasons brick-and-mortar Anthropologie locations smell so incredibly alluring, and has inspired its very own dedicated following. It's fruity. It's fresh. It's the smell of Anthropologie itself. Or, in the words of the store's product description, it's a mix of citrus fruits "redolent with lightly exotic mountain greens."
It's one that will draw you in, over and over. Which is a good thing in regard to Anthropologie's $158 12 Days of Volcano gift set, since every single product included completely revolves around the iconic scent. There's even a Volcano candle-shaped ceramic ornament to help you start your holiday decorating off on a very trendy foot.
There are more than a handful of actual candles, too. Six, to be exact: the Mini Volcano Blue Candle Tin, Mini Volcano White Candle Tin, Volcano Votive Candle, Volcano Silver Mercury Glass Candle, Volcano Blue Ombre Candle, and Volcano White Opal Candle. Basically, you'll be set on candles at least until spring. (Though everyone would understand if you burned through them before January even arrives.)
But the true Volcano fan will be thrilled by how many unique, non-candle products there are as well. There's a way to transport the scent into any room in your house, whether it be the Volcano Diffuser Oil, or Room Spray, or Bar Soap. There's even a Volcano Hand Cream you can toss into your purse before you head out the door, just in case you can't bear to part with the fragrance.
And remember: This Capri Blue set is exclusive to Anthropologie, so make sure you pick up yours either online or in select stores once they arrive. Ahead, the 12 Days of Volcano Holiday Gift Set, available now for pre-order.