The Best Beach-Inspired Perfumes To Make You Feel Like You're On Vacation, As Told By Their Rave Reviews
Sephora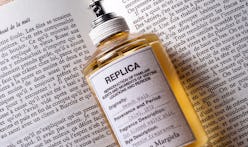 It's time to let the cat out of the bag: Each one of the best beach-inspired perfumes and body sprays do, in fact, smell very, very different. Sometimes, the fragrances differ so greatly it may leave you wondering where exactly the perfumer found their inspiration. Blame it on the fact that the scent of a beach is harder to define — it's not as easy to pin down, like roses or figs.
That said, fruits and florals can find their way into the beachy fragrances, too. In the product description for Fresh's Pink Jasmine Eau de Parfum, a quote from Fresh Co-founder and Fragrance Designer Lev Glazman paints a picture of the exact moment the scent came to be: "I was walking by the beach when the most striking aroma captivated me. Before me were these magnificent pink jasmines that seemed to absorb every scent in the atmosphere — the salty water, the fresh trees, the rich earth — breathing back out a romantic interpretation of each."
The result? A $90 perfume with rave reviews that'll instantly make you feel like you're about to step out onto a beach littered with jasmine flowers. And even though the scent may be drastically different from Bobbi Brown's Beach perfume — or Beach Walk from Maison Margiela's Replica collection, or any of the other fan favorites — this ultimately works in your favor; no matter if you prefer a sweet, floral fragrance, non-floral perfumes, or something dark and seductive, one of the beach-inspired scents listed below probably will catch your eye.
So, without further ado, continue scrolling down to browse 20 fan-favorite — and completely unique — beach-inspired fragrances.