Anne Hathaway Has A Few Words To Say About Your Rights As A Working Woman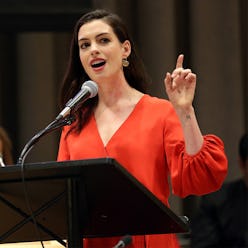 Perhaps you already know that the United States is the only developed country without paid maternity leave. While new moms can qualify for up to 12 weeks of leave, all those days go unpaid—and to United Nations Goodwill Ambassador Anne Hathaway, that's just not fair. On International Women's Day, the Oscar winner spoke at the UN about issues on the limitations of this policy and what must be done to ensure equality for both mothers and fathers.
"The deeper into the issue of paid parental leave I go, the clearer I see the connection between persisting barriers to women's full equality and empowerment, and the need to redefine and de-stigmatize men's role as caregivers," she said. "In other words, to liberate women, we need to liberate men."
Wearing a custom ADEAM dress in red to show solidarity with the women's strike, the actress didn't leave out her experience as a first-time parent (she gave birth to her son Jonathan last March), but was sure to acknowledge her own privilege. "America is a country where most people are living paycheck to paycheck," she pointed out, and for many women, those three unpaid months can mean the difference between keeping a roof over her head and applying for government housing.
She even talked about her family's sacrifices—her mother had to choose between a career and raising three children, and her father was the sole earner of the family and thus unable to spend much time with his kids.
"The assumption and common practice that women and girls look after the home and the family is a stubborn and very real stereotype that not only discriminates against women, but limits men's participation and connection within the family and society," she said. "How many of us here today saw our dads enough growing up? How many of you dads here see your kids enough now? We need to help each other if we are going to grow."
We highly recommend you watch Anne's full speech (below). We think it should be required viewing for women (and men) everywhere.