The Most Popular Beach Cover-Up On Amazon Only Costs $20 — & It's So Chic
Amazon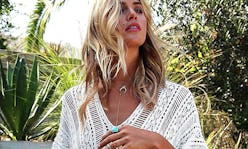 There's really nothing better than being able to saunter off the beach and straight to your next destination, whether it's a low-key lunch or lively happy hour. But to achieve an easy, breezy beach look, you need the right beach cover-up — one that provides just the right amount of coverage and can be dressed up or down depending on where you're going. Yet, some beach cover-ups are exorbitantly expensive despite their limited use. Perhaps that's why this boho-chic, $20 beach cover-up is making major waves on Amazon. Not only is it super affordable, it also looks great on nearly every body type and can be styled in countless ways.
With an impressive 4.3-star rating and more than 700 customer reviews (many of which include adorable photos), this earthy v-neck tunic feels effortlessly cool — and did I mention that it's the most popular beach cover-up on Amazon? It features tasseled side drawstrings, and comes in sixteen different Instagram-ready colors, all of which look amazing with a tan. Choose from minimalist black to the more tropical peacock blue, or even one of the three hippie-chic, multi-color zigzag options.
While the garment is only available in one size, it is designed to fit those who generally wear a small to x-large. Plus, there are variations in how you can wear it. As one reviewer noted, "You can leave as-is for a drapey look or tie it around your back for something more form-fitting." You can also wear it off-the-shoulder for a sexier look.
The polyester fabric is soft and comfortable, and feels surprisingly high quality given the price. One reviewer noted, "I honestly was not expecting this product to be this beautiful! I bought this on a whim and when it arrived I was SO surprised how great the quality is."
The cut is longer in the back than in the front (a sticking point for some), but it still provides all the necessary coverage to make you feel comfortable going from the pool to the bar, and back again.
What's more, this laid-back look is exceedingly versatile. "I bought a purple and when it came in I immediately ordered a khaki for vacation! It's a perfect 'over bathing suit' cover but you can also tuck part of the front in with shorts to make a beachy summer top look. I'm obsessed!" gushed one fan.
Another reviewer agreed that this is one beach cover-up that doesn't have to be stowed away once you leave the resort: "It is amazingly light and airy! I wore it over my swimsuit during vacation and have since worn it with pants and tank top for going out one evening. I got a ton of women asking me where I bought it."
While this cover-up has amassed something up a cult following on Amazon, there are a few caveats worth mentioning. First, the knitted fishnet fabric is prone to getting caught on things, so pairing it with certain jewelry items will be a no-no. Second, the care instructions advise that you only hand-wash it to prevent it from stretching or snagging. For those looking to throw their cover-up straight into the washing machine after a long day at the beach or pool, this might not be the one for you.
Having said that, for only $20 you can wear this cover-up non-stop for a week and feel like you got your money's worth and then some. You may even find yourself going back to buy it in a few more colors.
The Zoe Report may receive a portion of sales from products purchased from this article, which was created independently from The Zoe Report's editorial and sales departments.