No One Can Pull Off An All-Neutral Outfit Like Amal Clooney, & She Just Proved It Again
Duncan McGlynn/Getty Images Entertainment/Getty Images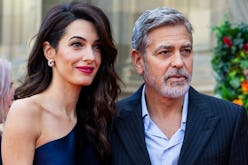 There happens to be a very small window of warm weather when it's appropriate to wear head-to-toe white and that time is now. Nobody loves a white dress more than Amal Clooney and it looks like she's just added another to her vast collection. The barrister's latest look will inspire you to cast off coffee for a day and commit fully to the neutral hue.
Perhaps white dresses have historically been delegated to weddings not just for symbolic reasons but for practical ones, too. These little stain magnets somehow find a way to attract your morning latte, a splattering of red sauce from your pasta dinner, or a drop of your nightly glass of wine every time.
But with the risk of wearing all-white comes the reward and Clooney, as you know, is a risk-taker, indeed (especially when it comes to her outfits). The human rights lawyer's lustworthy wardrobe is chockfull of ivory dresses and two-piece sets à la Jackie Kennedy.
The midi she wore to the SAP Ariba Live Conference in Barcelona on Tues. is a case in point. Clooney once again nailed the smart-chic aesthetic in a crisp white sleeveless dress hitting just below the knee and featuring a super-trendy ruffled neckline.
She paired the polished midi with nude Jimmy Choo pumps and stunning diamond stud earrings by VanLeles, adding a subtle pop of color to the look with her wine-colored pout and matching nails.
The outfit was understated enough to not distract from her message — during the event, she took the stage to ask tech leaders for their support in solving global issues — while still incorporating a bit of her personal flair.
Allow Clooney's white dress moment to be the muse for your next business meeting look. Just make sure to skip the morning Starbucks for good measure. A few pieces to help you channel the lawyer's look, ahead.
Shop The Look