Amal Clooney Gave Sequins Her Stamp Of Approval With A Stunning Strapless Dress
Emma McIntyre/Getty Images Entertainment/Getty Images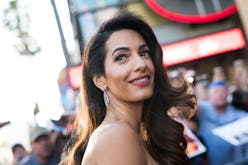 Amal Clooney is churning out the looks as she and her husband hop from one red carpet to another all over the world. After attending the premieres of Catch-22 in Los Angeles and Rome, the barrister arrived in London looking sparklier than ever before. George might have been the man of the hour, but Amal Clooney's sequin-adorned strapless dress stole the show.
You might have been disappointed to find that Clooney — who is possibly the world's trendiest lawyer — was missing from the Met Gala earlier this month, but she's certainly been making up for it with several dazzling red carpet looks since.
The couple has appeared in three countries within the past 10 days alone, following the opening tour of George's new Hulu series. It must be a pretty nostalgic trip for this mom of twins, too, revisiting Italy, where she met and married George, and London, where she lived before she became an international fashion icon.
To make it even more special, Clooney was joined at the UK event by her mother, Baria Alamuddin, who made it very clear where the lawyer gets her fashion sense from. The rare mother-daughter moment was almost enough to make everyone forget which show they were there for (sorry, George).
Clooney's dress consisted of a gold, sequined bodice and a pencil-cut midi skirt decorated with allover scalloped detailing much like a mermaid's glittery tail. The gown was eye-catching enough on its own, so she let it speak for itself with subdued accessories — black pumps and a basic Jimmy Choo clutch.
It wasn't just the sparkle, though, that attracted Clooney to the dress. She's been using this press tour as an opportunity to wear all her favorite designers while passing through their territory. In Rome, for instance, she opted for Italian designer Giamattista Valli, the mastermind behind her floral post-wedding dress in 2014. Likewise, her latest sequined look is by Ralph & Russo, one of Meghan Markle's favorite London-based designers.
Because it's from the Fall 2017 collection, it's no longer in stock. You can still get Clooney's look though with these similar strapless dresses, ahead.
Shop The Look