Put This Amal Clooney-Approved Ponytail On Your Must-Try List
AFP Contributor/AFP/Getty Images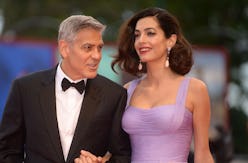 When you begin considering which red carpet looks or pre-event blowouts might fall into the storied category of Amal Clooney's most iconic hairstyles, one volumized go-to rises to the top. Books could be written about the international human rights lawyer's on-duty hairstyle: It's big, luscious, and often effortlessly tossed across one shoulder, never straying too far from her signature ultra-dark brunette. It's also the antithesis of common political hairstyles as Vogue writer Liana Satenstein pointed out in 2019. In a professional landscape dominated by pin-straight bobs and relaxed waves, Clooney's long, bouncy hair is a welcome focal point.
All that said, Clooney knows how to shake things up by adding in the smallest details, establishing herself as a style icon for hair minimalists everywhere. It's a notable event in itself when she appears at a film premiere with a curled above-the-shoulder lob, or when a new caramel highlight or two appear. The time she attended the 2018 Met Gala wearing a half-up, half-down ponytail made fans everywhere reach for their most museum-worthy scrunchies — and the T3 hair dryer regularly used by Amal Clooney's hairstylist, Rod Ortega.
Don't just take our word for it, though. Below are six of Clooney's best hairstyles from over the years, from that aforementioned everyday look to special-occasion styles. Just make sure you have your favorite hairspray, a curling iron, and some pre-heated hair rollers on deck while you scroll.