Alpyn Beauty's Newest Mask Proves Melatonin Has A Spot In Skin Care, Too
Alpyn Beauty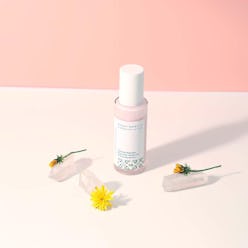 If you've ever had trouble falling asleep at night, you undoubtedly know about melatonin. It doesn't matter if you've personally taken the celebrated sleep aid or not — it's that popular for striking down sleepless nights. However, it's time to start considering another way to introduce the famous ingredient to your nighttime routine, according to Alpyn Beauty's new Calming Midnight Mask. New this November, the $68 overnight mask contains two ingredients you've probably never considered putting on your face: melatonin and wild dandelions.
Surprisingly, the duo may just become your two new favorite skincare ingredients. Both work together to kick the mask into high gear; melatonin, a natural hormone found in the body that helps you snooze, doubles as an antioxidant powerhouse when applied onto your skin. Meanwhile, the dandelion leaves assist in evening out your skin texture, calming inflammation, and providing skin with an ample source of vitamin C.
On the other hand, you probably will recognize the other key ingredients — and may already have a few in your bathroom cabinet. The Calming Midnight Mask's formula also features hyaluronic acid, ceramides, and bakuchiol, the popular, plant-based retinol alternative. Alpyn Beauty included an extra dose of valerian root, too, another famously calming natural aid.
So, what will all of these swoon-worthy ingredients do for your face? As an overnight treatment, the mask aids your skin on two fronts: First up, it seals in moisture, keeping any moisturizers or serums you layered on before you hit the hay locked in place. Naturally, its own skincare benefits seep in as you snooze, too; Alpyn Beauty notes in the product description that the mask works "to calm, soothe, hydrate, and repair" while you're fast asleep. It's a win-win.
Take note of what's left out of the formula, as well. Alpyn Beauty's clean, sustainably sourced skin care is made without parabens, phthalates, sulfates, and more. Once you're finished with the bottle, you can recycle it, too.
And you may find yourself reaching the end of the Calming Midnight Mask before you know it; because really, is there anything better than a winter-ready hydrator that gets to work while you leave it alone? To shop Alpyn Beauty's new Calming Midnight Mask, visit the brand's website or pick up a bottle from goop's online store. Below, Alpyn Beauty's latest addition.