If You Liked Allswell's First Mattress, You'll Love This Brand New Version
Courtesy of Allswell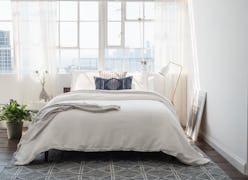 If you've ever gone on a quest for the perfect mattress, you know the struggle. With the countless options and often wildly high price tags, searching for this bedroom essential can start to feel like an impossible task. There have been quite a few mattress-in-a-box start-ups trying to change this, but many are still expensive and even more only focus on memory foam, which isn't great if you're looking for a spring mattress. Allswell's new Hybrid mattress, which launched on Oct. 17, is looking to change that, though.
Ranging from $245 for a twin to $420 for a king, the new Hybrid mattress, named The Allswell, comes with a shockingly accessible price tag and is delivered to your home in a box. The mattress is made with three types of performance memory foam along with individually wrapped coils to minimize motion transfer so you get both memory foam and springs — the best of both worlds. And no paper thin mattresses here — The Allswell is 10 inches tall to give you added comfort and support.
You may have already heard of the Luxe Hybrid from Allswell, which is a best-seller on the brand's site (the king and queen sizes of the mattress even sold out in September 2018). With such a low price (it starts at $295 for a twin and goes up to $745 for a king), it's not hard to see why. And now, it's launched a new mattress at an even more accessible price point.
It kind of doesn't seem possible for a mattress to be so inexpensive, which is exactly why Arlyn Davich, Allswell's President set out to make it. "They told us we couldn't make a Hybrid this exceptional at a price this accessible...but that's what fueled us to do it," said Davich in a press release from the brand. Thus, The Allswell was born.
Similar to other newer mattress brands, Allswell also offers a 100-night risk-free trial to test the product — so if you're unfamiliar with the brand but want to try out the new mattress, you can rest easy knowing you won't lose your money if you don't love it. To sweeten the deal, the brand even offers free ground shipping and a 10-year limited mattress warranty.
If you haven't heard of Allswell yet, it's probably because it hasn't been around long. In fact, the digitally-native home brand just launched in February 2018, but it's already making a name for itself with elevated, inexpensive bedroom basics. In addition to being sold on its own site, Allswell products (including the new mattress) are also sold on Walmart.com — so it's sure to be making even more waves on the internet very soon.
Though its mattresses are certainly a product to take note of, that's not all Allswell offers. On its site, there are plenty of pretty, minimal bedding basics that are simple enough to fit seamlessly into any home. And, true to form, everything is ridiculously affordable. There's a selection of throw pillows that don't pass the $60 mark, and you can buy the Percale Sheet Set for only $174 for a king.
Based on the popularity of the Luxe Hybrid, it's a safe bet that The Allswell will sell out just as fast — so keep scrolling to shop the mattress below while it's still in stock.