Acne & Fjällräven's Unexpected Collab Is Worth Your $$$
SOURCE: Courtesy of Acne Studios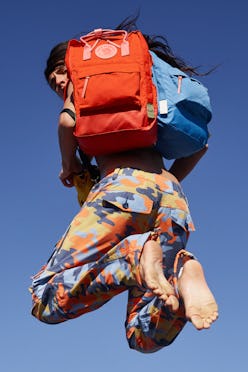 There are few bags as recognizable as Fjällräven's utilitarian backpack — the iconic Swedish brand has dominated the outdoor scene since 1960 with its sturdy, dependable pieces made to withstand the harshest of environments. Along the way, the brand's pieces have also come to be the epitome of all things hip in the way of functional accessories (try walking through Brooklyn without spotting at least one of its backpacks), which is why it makes perfect sense that fashion brand Acne Studios chose Fjällräven for its latest collaboration. The two brands have teamed up to create a colorful unisex line that marries everyone's favorite hiking essentials with Acne Studios' boxy sweaters and tees the fashion world has come to know and love.
Prices for the collection range from $150 to $1,300, and the products will be available to shop to your heart's content at both Acne Studios and Fjällräven on Sept. 6.
"We were honored when Acne Studios approached us, and curious too, because we've never done anything like this before," said Henrik Andersson, head of innovation and design at Fjällräven in a press release. And though the collaboration is a welcome first for Fjällräven, this certainly isn't Acne Studios' first foray into creating products with other iconic brands — other notable collections include a denim line with Lanvin in 2008 and a collection of leather pouches with American photographer and artist Jack Pierson in 2016.
As for why Fjällräven entered into this particular partnership of cult-favorite brands, it boils down to sharing each brand's Swedishness (and incredible design) with the world. "I grew up with Fjällräven. If you are Swedish, you have a very specific relationship with the brand," said Jonny Johansson, the Creative Director of Acne Studios in a press release. "I'm very proud that it's Swedish, and wanted to share our love for Fjällräven with the world."
The products in this new collaboration could be great to throw on during frigid winter days. Fjällräven's Expedition Down Jacket — a well-insulated jacket literally created for "really cold winter climates" — got shiny new updates with the Acne Studios collab, like faux fur trim and reflective patches. So hey, you can now indulge in your fall trend obsessions while staying as warm as humanly possible.
The Kanken, another classic Fjällräven piece, was transformed with Acne into three separate products for this collab: the classic backpack that everyone knows; a mini clutch, because you can't not have a tiny bag this year; and a new version that can be transformed into a crossbody messenger bag. Other pieces include T-shirts with images of hiking scenes, cargo pants that turn into shorts, and even a sleeping bag.
How did this unexpected line ultimately come together? While each brand is known for its own distinct style, Johansson was determined to make products that brought both worlds together without losing the integrity of either in this collaboration. "To create the collection, Acne Studios Creative Director Jonny Johansson carefully selected each piece, dissected it, studied its construction, kept its significant features and brought Fjällräven into the world of Acne Studios," reads the press release.
Which means you can be sure any purchases will withstand the awful elements of Mother Nature come winter without compromising your hard-earned style — a true feat if there ever was one.