A Selena Gomez Beauty Line Is Officially In The Works — Here's Everything We Know
Noam Galai/Getty Images Entertainment/Getty Images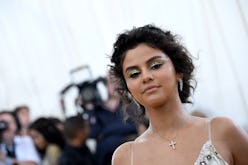 It's like she was born with bright-red lips and winged eyeliner that would take any normal person hours in front of the mirror to recreate. Her makeup is bold, never boring, even on her most casual days. If any celebrity has earned her very own beauty line, it's Selena Gomez.
Over the years, this Disney-bred singer has become a beauty icon in her own right. Sure, her makeup artist Hung Vanngo is one of the most sought-after experts in Hollywood, but there's something about her ability to adapt to any aesthetic that's especially unique.
You've seen her with neon lids, gothic lips, and just about every hairstyle under the sun. She's a certifiable chameleon when it comes to hair and makeup, yielding her major street cred as a beauty entrepreneur, which is precisely what she's about to become.
According to WWD, the 27-year-old's production company, July Moon Productions, filed a patent on July 11 for "Selena Gomez" cosmetics, fragrances, skincare products, and hair products, which could only mean one thing: that the singer has some exciting stuff brewing behind the scenes.
It's unclear what exactly the collection will encompass or when it will launch, seeing as her team hasn't officially announced it yet, but you can trust that it'll be worth a spot on your vanity if it has Gomez's name on it.
This won't be the singer's first venture in the beauty industry, of course. In 2011, she partnered with the fragrance company Adrenalina, Inc., to launch Selena Gomez Eau de Parfum. The initiative was crowdfunded by her fans, who also determined its scent by a vote.
Gomez has dabbled in the fashion world as well, in the past partnering with the likes of Coach, for whom she's an ambassador, Puma, and Kmart, where her first-ever Dream Out Loud line hit shelves nearly a decade ago.
This time, she's following Lady Gaga and Kendall Jenner's lead and using her star power to break into the beauty industry. Regardless of what comes of Selena Gomez's new project — Hair? Makeup? Skin products? Who knows? — it's guaranteed to be an immediate success.
Until then, you may resume marveling at her crazy-sharp cat eyes on Instagram.