'Gossip Girl' Is Coming To TV Again — Here's Everything You Need To Know
Timothy White/Cw Network/Kobal/Shutterstock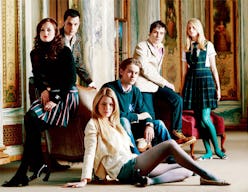 If Serena van der Woodsen was your OG fashion muse, then HBO has some good news for you. The Hollywood Reporter has confirmed that Gossip Girl is gearing up for a reboot in 2020. Here's how to find out what your favorite Upper East Side crew is up to these days.
As if shopping for baguette bags, baby tanks, and butterfly hairclips wasn't enough to teleport you back to the aughts, you'll soon be spending your evenings watching the same show you used to watch in college.
Xennials and millennials grew up with Serena, Blair, and the rest of Manhattan's teenage elite on the steps of the Met, watching Blake Lively and Leighton Meester have some of their most iconic on-screen fashion moments to date.
Whether anyone from the original cast (Lively, perhaps post-baby?) will be joining the series is unclear, but executive producers Josh Schwartz and Stephanie Savage are in, The Hollywood Reporter has confirmed.
The original showrunner, Joshua Safran, who's writing the 2020 reboot, told THR that the new Gossip Girl will be an "extension" of the original, which ran from 2007 to 2012. It's slated to debut with 10 episodes on WarnerMedia's streaming service HBO Max next spring.
Rumors of a modern-day version of the beloved show started months ago, and were even speculated to have been picked up by its original network, The CW, but things were never really confirmed.
Safran made it clear that Gossip Girl circa-2020 won't be just a verbatim remake. In fact, it'll incorporate all the newfangled technology and social media that has developed since the finale seven years ago.
The logline reads: "Eight years after the original website went dark, a new generation of New York private school teens are introduced to the social surveillance of Gossip Girl. The prestige series will address just how much social media — and the landscape of New York itself — has changed in the intervening years."
Whoever the new school kids are, it's safe to say they won't be using Serena and Blair's old-school BlackBerrys anymore.
The original cast featured, in addition to Lively and Meester, Penn Badgley, Chace Crawford, and Ed Westwick, as well as Kristen Bell as voice of Gossip Girl, herself. Although it's likely that the new series will feature an all-new crew, old-school fans should tune in for potential guest appearances from the originals.
Premiere dates and more details to come soon.