All The Inspo You Need To Break Out Your Boots This Summer
Grosescu Alberto Mihai/Shutterstock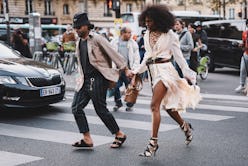 Summer is decidedly sandal season. But don't been so quick to stow away your ankle boots; they, too, deserve a spot in your wardrobe this time of year. Boots and rising temperatures may seem like a potentially sweaty combination, but with plenty of ankle-grazing options, that's not necessarily the case. In fact, many women have embraced wearing outfits with ankle boots all summer long. And luckily, there are a slew of trend-forward styles perfect for the sweltering days ahead.
Boots not only pair well with your summer staples, but when you factor in an office that blasts the AC, a pump or strappy sandal out for an ankle boot can be your best line of defense. But, that's not to say you should sport your lug-sole snow boots in 90-degree weather. For warmer months, think light neutrals, bold hues, croc-embossed patterns, and western-inspired options instead. An added bonus: With shorter hemlines, ankle boots finally get the spotlight after being covered by long trousers for the past months.
Continue on for nine chic ways you can keep wearing ankle boots through the summer months — without suffering the heat — and stock up on the season's most stylish pieces.
Pastels + White Ankle Boots
White boots were on the feet of every trendsetter this winter, be them slouchy calf-grazing, thigh-high, or classic ankle. Now, break them out and style with spring pastels. Opt for a wide-leg or kick flare trouser to showcase the footwear.
Printed Maxi + Geometric Earrings + Camel Ankle Boots
Brown boots are a warm weather alternative to classic black. A camel ankle boot neutralizes a romantic, mixed-print maxi dress. Accessorize with a colorful bag and geometric earrings to add to the bohemian, '70s-inspired vibe.
Bermuda Shorts + Belted Blazer + Sculptural Ankle Boots
Bermuda shorts get a bad rap, but when paired with polished separates, they are perfect for dressier summer occasions. Give a denim iteration a sophisticated twist by adding a structural ankle boot in a beige color. Style the boots with a sleeveless belted blazer and handbag in the same neutral hue, and you're good to go.
Black Jeans + Sheer Dress + White Ankle Boots
Even dark denim can feel summer friendly when paired with bright, white boots. Add a breezy, sheer dress atop for a winning warm-weather look. Throw on a colorful bag to match the floral touches in the dress.
Mini Dress + Black Ankle Boots
Black ankle boots are a key ingredient to a versatile winter wardrobe. By the same token, black boots can add edge to any summer look. Since they are a neutral piece, use the clean black ankle boot to test out a Spring/Summer 2019 trend like animal print.
Romantic White Dress + Western-Inspired Boots
Editors and designers alike have adopted the western boot trend with plenty of aplomb. Pair a dress in a light, breathable fabric with a cowboy boot in a bold color like blue or red. A romantic, white frock leaves room for edgy accessories like a color-block printed bag and contrasting square-frame sunglasses.
Denim Jacket + White Jeans + Snakeskin Ankle Boots
Summer brings no shortage of eye-catching prints, snakeskin included. Snakeskin ankle boots were seen all over Coachella and even on the Spring/Summer 2019 runways. It can add a cool touch to a denim on denim outfit so pair with kick flare white jeans and give the snake-embossed boots the spotlight.
Metallic Dress + Silver Ankle Boots
While winter brought neutral hues and clean silhouettes, summer is all about anti-minimalism, so a shiny ankle boot seems very fitting. Amp up a colorful, metallic midi dress with a silver boot.
Monochrome Outfit + Matching Socks + White Ankle Boots
For a fresh take on a skirt and jacket combo, go monochrome in a pastel yellow color. For footwear, a contrasting white ankle boot and a pastel yellow sock showing underneath brings a modern, cool touch to the muted color palette. For contrast, style with a black bag that is both practical and timeless.