9 Stylishly Sustainable Gift Options That Are Totally Guilt Free
Sun Child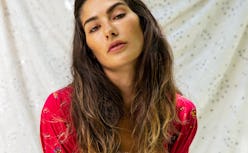 There's nothing like the rewarding feeling of seeing the look on a loved one's face when they open up a holiday gift to find a thoughtful present inside. However, if there's one thing that could make it even better, it's a gift that gives back. And thanks to the rise in ethically and environmentally responsible fashion, there are plenty of cool and stylish sustainable gift options to get for anyone in your life.
While it still has a long way to go, the fashion industry has reached a point where environmentally responsible products and of-the-moment trends are no longer mutually exclusive. As a result, brands both big and small have made moves to improve their production impact with more sustainable practices — which means an increasing number of chic and sustainable pieces have emerged on the market.
When it comes to shopping for holiday presents (whether they're for your significant other, your parents, or your office's Secret Santa) the thought behind the gift is what matters the most. And with that in mind, why not opt for something that encourages more ethical practices? Without a doubt, these pieces are chic enough to stand on their own. But with the added factor of sustainability, you'll also be helping push forward the fashion industry's journey towards more ethical practices.
If you happen to be looking for a brand that creates chic, timeless pieces for an everyday wardrobe, John Taylor focuses on supporting small businesses and providing fair wages to its workers. Get the $295 Chore Kimono for your best friend (or yourself!) this holiday season. Another cool and casual closet essential is Cariuma's IBI bamboo sneaker, which costs $98 and uses the self-regenerating plant to create its carbon-neutral shoe.
Just in case you're shopping for a denim lover, FRAME has launched a collection of its most popular pieces using sustainable materials like organic cotton. Opt for the $250 Sustainable Le Palazzo to give someone a pair of jeans that make a statement. Complement these pants with Just Human's $260 Bold Square 01 sunglasses, which are made from reforested softwood trees. And for the maximalist in your life, Sun Child's one-of-a-kind $650 The Set is made from upcycled saris and includes one of the most comfortable jumpsuits in the market.
To give you a head start, check out the 9 pieces that make the perfect sustainable gifts below.