The $3.66 Drugstore Lipstick You'll Love For Long-Lasting, Matte Color
Grosescu Alberto Mihai/Shutterstock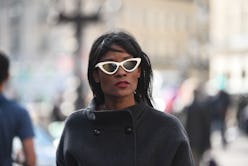 Lipstick has a way of pulling everything together with a single swipe. Day or night, if a look feels incomplete, a pop of color on the lips will likely add the extra polish needed to make your ensemble work. And if your arsenal of lip colors could stand for some fresh provisions, use your next essentials shopping order from Jet to stock up on new drugstore matte lipsticks that'll help you look your best for under $10.
If you already swear by Jet for making sure your home stays stocked with all the daily essentials you need, you know just how great it is that shipments arrive at your doorstep in as little as two days after ordering. So what if the same could be said for all your beauty must-haves? Turns out Jet's makeup offerings are just as comprehensive as the rest of its stock, and includes tons of affordable (but effective) drugstore options.
Among the online superstore's beauty essentials are several popular matte lipstick options known for providing the same polish and color payoff as luxe brands, but at a fraction of the cost. Between super-low prices and the versatility of matte formulas — they can be worn with just about everything — it's worth stocking up on several shades to bolster your makeup bag.
The beauty of matte lipsticks is that they're pretty much guaranteed to be formulated for super-pigmented color, so you get a bold, statement-making look no matter the shade you reach for. That said, if your goal is to have a go-to color (or two) that you can always rely on to make an impact, a matte hue is your best bet.
Jet's drugstore buys certainly fit the bill in terms of color payoff, and the latest slew are also created with lasting wear in mind – that means one swipe has you covered for the day, no after-lunch touchups required. The $3.66 Matte Lip Color from e.l.f., which has over 600 five-star reviews, promises all-day color without the fear of dry, cracked lips, thanks to a formula that locks in moisture while providing tons of pigment. The neutral nude-rose hue, Praline, is particularly versatile, ideal for wearing all day at the office or on a night out with friends.
For a bolder matte look, swipe on SHANY's Matte Lipstick in Deep Feeling, a velvety smooth red shade. The $7 lipstick is a cheap way to create an eye-catching makeup look that's fit for date nights and dinners alike. And because the formula is created without parabens or talc – SHANY instead uses vitamins and mineral oils in its colors – your lips will stay smooth, no cracks or color-bleeding in sight.
Equally daring, but still easily wearable is Revlon's Super Lustrous Lipstick in Coffee Bean, $6.58 on Jet's site. The rich brown shade is ideal for creating looks reminiscent of the '90s, but with a modern matte finish. It's an unexpected color, but no harder to wear than a nude or deep rose shade.
No matter the matte shade you love most, there's no shortage of under $10 options on Jet's easy-to-shop site. Browse some of the best affordable lipsticks below, and get ready to add one – or several – to your next order.