The $9.49 Drugstore Lip Stain More Than 500 Ulta Shoppers Swear By
Dvora/Shutterstock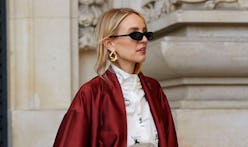 In a world of richly pigmented matte lipsticks and super-shiny lip glosses, it seems like lip stains don't always get the praise they deserve. But when you want a lightweight yet impactful wash of color that lasts all day, they're just the product to turn to. So why haven't they received recognition? With some stains ringing in at unreasonably high prices, and cheaper iterations lacking lasting results, it can feel like a lost cause to find one that feels worth it. It turns out, however, that there are drugstore lip stains under $10 out there that actually work — the proof is in their incredible popularity.
When a drugstore product proves itself to be more than worth its price, word tends to get out about it. After all, who wouldn't want an affordable alternative to comparable high-end cosmetics so you can get the results you want for less? As such, once the bargain buy makes it big, the five-star ratings start rolling in across Ulta, Target, CVS, and more retailers that shoppers rely on for affordable beauty options. And considering how difficult it is to find a quality lip stain, when beauty devotees discover one, it's no surprise that the reviews rush in.
Case in point, Revlon's Balm Stain, which is $9.49 at Ulta. The chubby crayon balm has over 500 five-star reviews on the beauty site, all thanks to its non-drying formula and long-lasting color that gives it no-fuss, foolproof appeal. Users love that lips actually feel moisturized for hours after application (because it has the protective qualities of a balm) and that they don't lose out on a gorgeous wash of soft color.
If you prefer a liquid formula for even more impactful color payoff, opt for NYX's Slip Tease Full Color Lip Stain, just $6.99 at Target. Almost 150 reviews and a nearly five-star rating are all the proof you need that this complete coverage lip stain is the real deal. Fans praise it for providing a powerful layer of pigment in a wide range of shades, all of which stay put all day. You might also want to grab e.l.f.'s $4 gel lip stain while you're at Target, a liquid-gel hybrid formula that can be layered onto lips to achieve the level of pigment you're after.
As it turns out, there are actually quite a few effective lip stains out there that are easy on your bank account and give beautiful results. Keep scrolling for more top-rated drugstore lip stains that'll cost you under $10 — guaranteed you'll finally find one that works for you.