Mirit Weinstock's Earrings Are The Fashion-Girl Version Of Festive Holiday Jewelry
Mirit Weinstock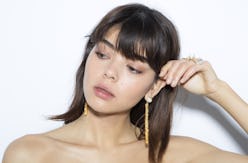 Dressing for holiday occasions is one instance where a "more is more" mentality is definitely welcome. The only problem is, you're often walking a fine line between stylishly festive and downright cheesy. Luckily, a slew of new sparkly earrings from designer Mirit Weinstock just landed to deck fashion girls' ensembles with just the right amount of holiday cheer.
Mirit Weinstock, who splits her time as a designer between Tel Aviv and Paris, started her jewelry line in 2011. The line has since been featured online and in upscale boutiques all over the world, from Tokyo to London, where shoppers can snag her unique pieces. Weinstock favors using unexpected materials and finding inventive sources of inspiration, which is totally apparent in her most recent arrivals available on her online store.
The new pieces are composed of pearl, 24k gold, and silver elements, fashioned into earrings that bring to mind holiday décor — but in the chicest possible way. The idea that jewelry is ornamentation for the body rings especially true for these pieces, which lend the perfect finishing touch to ensembles lacking that sparkly factor necessary for celebratory events.
Weinstock's Wrapped Pearls Swinging Earrings Gold, $445, are composed of fresh water shell coating syntactic pearls wrapped by 24K gold loops, with gold plated drop ornaments beneath. The hand crafted gold ornaments bring to mind holiday tinsel that swings and sways as you move. Wear these dramatic earrings with an off-the-shoulder sweater to add a glam touch, or pair with a classic black evening dress for more elegant events.
For an equally elevated approach, opt for the Single Orbit Earring, $276 each. The pearl appears to float, while a 24K gold plated ornament surrounds it. The overall effect is a playful and stylish take on holiday wreath earrings you've seen but shirked for being a bit too on-the-nose.
Since the Orbit Earring is sold as a single, be sure to double up if you want your ears to coordinate. Otherwise, wear with a contrasting style (or alone) for an unexpected approach. The Double Hoops Single Earring, $290, is similarly sold solo, and is a dramatic combination of two linked hoops: One completely pearl, and the other a silver wreath ornament similar to that featured across several of Weinstock's other pieces.
Easily the best part about the collection is the versatility of each piece. When worn with attire that's festive in its own right, like metallic mini dresses or velvet separates, the earrings read modern holiday dressing. But don't put them away after the celebrations are over — style the earrings with classic suiting or minimalist dresses to give your look a fun, feminine edge year round.
Whatever style you choose, between dramatic drop earrings or a modern take on hoops, Weinstock's designs are sure to take your holiday dressing to the next level. Shop a selection of the newly launched pieces below, and head to her online store for more glam picks.