8 Iconic Shoe Brands That You'll Still Be Wearing 50 Years From Now
Grosescu Alberto Mihai/Shutterstock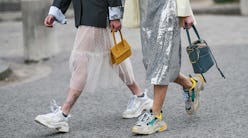 There's a story behind everything you wear. The trends you subscribe to, the staples you stock your closet with, even the jewelry pieces you invest in. Whether you realize it or not, many brands you're obsessed with right now have stories that trace back decades or even centuries. Today, there are plenty of popular shoe brands that fill that craving for something new — labels like By Far, Cult Gaia, and Staud have all managed to capture worldwide attention and create a viral buzz. However, when it comes to older footwear labels that have sustained popularity for an impressively long time, a viral buzz is not necessarily the motivating factor. Rather, a mysterious formula that involves good timing, quality production, and smart marketing is what seems to keep a shoe brand around and thriving for more than a few seasons.
Ahead you'll discover eight popular shoe brands that have remained relevant one decade after the next. There are the labels you likely already suspect (Yes, one of their slogans is 'Just Do It') while others you may not realize have been around quite as long as they have been (one of the below can be traced back to the 18th century — that's not a typo). Brush up on your footwear history and shop your favorite shoes for spring, because you know they'll still be relevant next season. And the next. And the next.
We only include products that have been independently selected by The Zoe Report's editorial team. However, we may receive a portion of sales if you purchase a product through a link in this article.
Converse, 1908
Marquis Mills Converse founded the iconic footwear label more than a hundred years ago in Malden, Massachusetts. A little less than a decade after it began, the brand presented its very first basketball shoe: the Chuck Taylor All Star. Athletics aside, the shoe also became a cultural sensation with endorsements from rock bands, film costumes, skate and surf culture, and countless other communities. As we know it today, Converse is where you go for a cool, no-fuss footwear option that goes with everything from party dresses to pajama pants.
Birkenstock, 1774
It's hard to believe this ugly sandal mainstay goes back to the 18th century but Birkenstock does, in fact, have roots in Langen-Bergheim, Germany in the year 1774 when Johann Adam Birkenstock was listed as "subject and cobbler" in archives. The footwear brand wasn't introduced to the United States until the 1960s and thanks to recent strategic brand partnerships and women opting for supportive shoes over stilettos, the label won't lose steam anytime soon.
Dr. Martens, 1947
Everyone's favorite punk-meets-grunge workwear boot has always been considered synonymous with "British working class style." The Who's Pete Townshend was the first high profile wearer of the utilitarian shoe and in result encouraged an entire generational subculture to follow suit. Whether it's the high-top 1460 or the low-cut version, Dr. Martens will always have an irreverent, cool aesthetic about them.
Fila, 1911
In 1911, the Fila brothers opened their first shop in 1911 in Biella, Italy. It was a small town in the north of the country and they "had no idea how far their legacy would travel." Though the brand has become widely associated with tennis, in recent years it's become a bonafide streetwear staple.
Hunter, 1856
Henry Lee Norris founded the iconic rain boot brand in Scotland. His sturdy rubber designs were called upon to aid World War I soldiers in the trenches, and by the time the conflict was over his company had produced one million pairs. The Wellie was created in 1956, which would eventually outfit a generation of Glastonbury festival goers like Kate Moss and Alexa Chung. In other words, if it's going to be a rain boot, it better be Hunter.
Timberland,1952
Timberland is known for its Original Yellow Boot — and for good reason. The waterproof footwear staple was introduced a couple of decades after the brand's inception in 1973 and though it began as an all-weather item for New Englanders, it arguably hit its stride in the nineties when hip-hop stars like Jay-Z adopted the boot as a uniform of the times. Since then, the yellow boot continues to be a subtly cool option that also happens to be well-crafted and can withstand the elements.
Nike, 1964
There's not enough time to go into the history of why Nike is the Goliath footwear brand that it is now (check out founder Phil Night's Shoe Dog for more on that). However, suffice to say it has successfully maintained its position as the world's most popular footwear label ever and shows no signs of relinquishing that title any time in the near future.
Ugg, 1978
In 1978, Brian Smith began selling his sheepskin boots to surfers in southern California. The ultra-cozy footwear epitomized the casual culture and by the early aughts was a staple in the boho-inspired style scene. Regardless if you surf or snowboard, a soft pair of Uggs, in this writer's opinion, will always be a winning choice.